There comes a time when you cannot do everything yourself. You may be a good writer but do you have the time to write? Wouldn't it be better to get the writing done by a domain expert, say a freelance content writer or a content writing agency? Wouldn't you want to use the time saved by not writing yourself to do other more useful and profitable work? Maybe get more new ideas crystallized.
Outsource Writing From Contentmart
In today's Internet connected world, you can avail a variety of content writing services with just few clicks. Contentmart is one such content writing company that brings together good quality writers and clients who need content writing services. Registered writers leverage this platform to showcase their talents and earn a handsome income. Contentmart demands copywriters to undergo stringent English tests and maintain profile & portfolio in order to ensure optimum quality and ease to the clients. By easy reference of sample articles, clients can make a decision to hire the desired writer.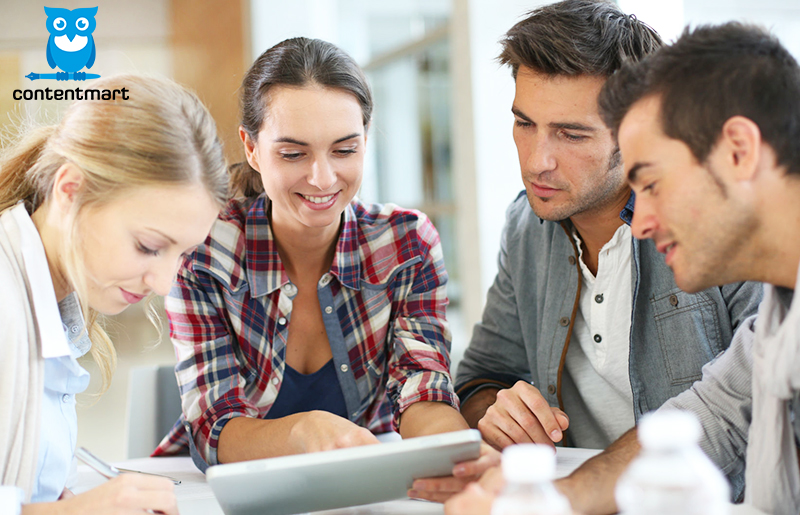 Choice of Good Writers
If you are a client needing content writing services you can register on the website. You will have access to the thousands of writers offering their writing services, registered with Contentmart.
These include writers who are highly experienced as well as those who are fresh trying to establish themselves. You can hire professional writers specialized in different niches. For instance, if your need is in academic writing, ghost writing, speech writing, copy writing or blog writing then you can hire content writers from among the many that have registered on Contentmart. Likewise, if your need is for web content, content for brochures, product descriptions, press releases, SEO content or testimonials, then too, Contentmart provides many alternatives to choose from.
Easy to Search for Writers
Based on your need, you can opt for one of several ways to discover your writer. One way is to sift through the writers registered on Contentmart and select a content writer. The selection process is rendered easy by going through Contentmart's list that is structured according to the skill or expertise declared by the writer. In this process, you can shortlist a few possible writers and invite them to write for you. You can provide them a brief as to the writing requirement and guidelines and mutually discuss a rate agreed upon. Another way is to offer your assignment through Contentmart as an open order for all to which writers can bid. Here, you will get bids from the writers who are interested in your job. You can then choose from the ones who have bid on your order. Yet another way is to seek Contentmart's recommendation by submitting your requirements to them. Contentmart has a process by which writers are settled as 'Verified' by Contentmart recognition with great quality assured.
Contentmart – A Professional Website
Contentmart's website is professionally designed to provide a platform to answer queries from you as well as the writer through a message board. On clarifying all issues you can award the job to the writer of your choice. The assignment should be awarded through the website in its standardized format. The payable amount has to be paid to Contentmart (while placing an order) who holds the amount under escrow.
On completing the assignment the writer would submit through the submission page. You will be able to review the submission and seek amendments, if necessary. In the event you don't respond within 5 days, the submission would be reckoned as accepted and the agreed amount would be paid to the writer. In the event you don't accept the submission, then you can fail the assignment and get your escrow amount refunded.