E-commerce has grown tremendously over the past few years. It is still growing at a breathtaking pace.
There are many e-commerce websites present on the internet. An e-commerce website's design and features play a great role. It must also be capable of processing thousands of orders and requests at the same time. Thus it is very important to use a powerful website developing tool while developing an e-commerce website.
WordPress is among the popular and a powerful webpage designing software. It is one of the simplest ways to design your website.
According to a survey of more than 26% of the website present on the internet are powered by WordPress.
In other words, WordPress is a content management system which is free to use. It is licensed under GPLv2, which makes it possible for anyone to use or modify it in order to make it better.
A content management system is a very simple tool which can be used to manage different aspects of a website like heading, content, etc. The best part is that you can use it seamlessly without knowing anything related to programming and coding.
WordPress gives you total control of your website. Magento is among the top competitors of WordPress, but it has a really complex interface as it is built for professionals. On the other hand, working on WordPress is as simple as a piece of cake. It is user-friendly as well as powerful both at the same time.
Must Read: How to install WordPress on the digital ocean?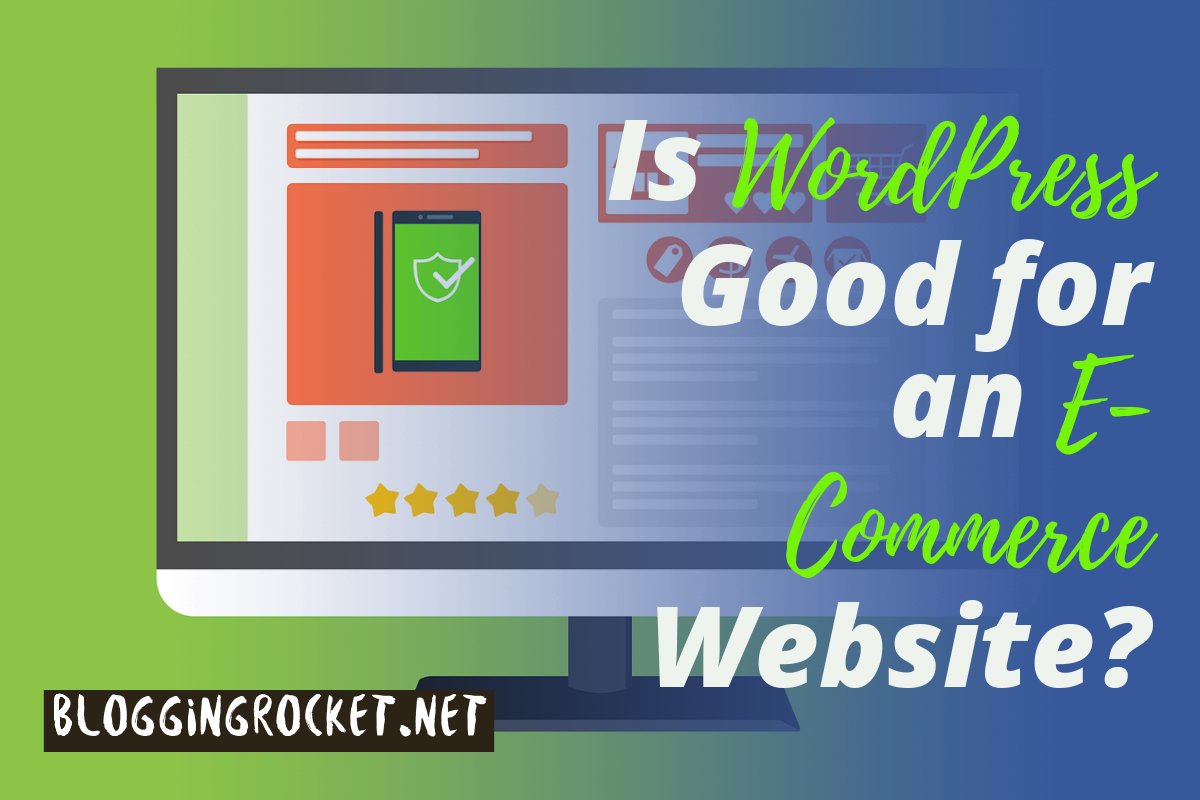 WordPress statistics
There are more than 60 million users of WordPress.
About one-sixth of the top million websites are powered by WordPress.
WordPress is absolutely free to use and modify which is developed by volunteers.
It is constantly updated on a regular basis to make it better and more secure.
Collectively it is used by almost sixty million websites.
WordPress is used by everyone from beginners to professional website developers.  Now the big question here is WordPress right choice for E-commerce websites.
Must Read: 6 Ways to Secure Your WordPress Website
Why WordPress is Good for E-commerce websites
WordPress can be easily used to build an impressive and appealing e-commerce website. It offers tons and tons of features. Most of the part of WordPress websites are editable and thus can be customized as per your choice.
It has a huge collection of themes which are updated constantly. There are more than enough themes for every kind of website. However, only one fraction of the available themes are suitable for e-commerce websites, but that's also enough. It can be further edited and customized to give it a personal touch.
Plugins can also be used to enhance it further. There is a wide range of plugins available which can be installed. The plugins are most free or will cost you a small amount of money; you can use it to add new functionality to WordPress.
Also Read: Top Free WordPress Plugins You Must Use To Improve WordPress
Fonts
WordPress also offers some fonts to choose from. The font's size, color, and style can be changed to match the theme.
Some disadvantages of using WordPress for e-commerce sites
WordPress was originally developed to works as an e-commerce platform. It is mostly used for blogging and other similar websites. Here are some reasons why not to use WordPress for e-commerce.
As earlier said WordPress is free to use and modify. That's the reason why it is used by millions of users from around the world.
However, it's popularity is one of the reasons for its downfall. WordPress is constantly attacked by hackers. WordPress is getting more secured and better day by day but who really want to use a platform which can be hacked any time.
In order to make WordPress work for e-commerce websites, you may need to add themes related to the website. It is also necessary to install suitable plugins to add different functions to it.
The process of searching and installing plugins is not an easy task. The themes and plugins installed from third party sources sometimes do not work in the upgraded version of WordPress. This will make your website totally useless.
Therefore you need to upgrade the themes and plugins all the time so that it works with the upgraded version of WordPress. This is a really hectic and time-consuming task.
It lacks complex features
If your e-commerce website is huge then WordPress should not be your choice. WordPress lacks some of the complex features and traits which are essential for such website. It is not built to handle big amount of data and contents. There is no doubt that it is getting better with every update but is still not that capable.
Conclusion
Overall WordPress is a good option for e-commerce websites. You can use it for sure as it offers a wide range of features and themes which are totally editable. You also get total control over every aspect of your website.
It is also compatible with almost every plugins and theme. Most of its features are absolutely free to use, and thus you need not spend even a single buck. It lacks some advanced features and is not that powerful in comparison to its competitors. However, it can still handle a simple e-commerce website with ease.
Author Bio. :- James Tredwell is a Technical SEO Hopinfirst.com – is a leading mobile app development company which provide best ios app development and Android app development Services.