Basically, with Windows hosting, you can host your personal and/or business website via a Windows server/servers. Thus, technologies related to Windows are used in this case such as Microsoft Access, Microsoft SQL server, ASP, and .NET.
But this doesn't necessarily mean that if you have Windows OS running on your machine, you have to opt for cheap Windows hosting only as the hosting you choose isn't dependent on the OS itself. It is based on the technologies needed for your website.
Windows hosting servers are suitable for any type of hosting from shared, VPS, dedicated, and even cloud.
Additionally, it works best with any content management system which means you still have an option in Windows when it comes to hosting.
Windows hosting is compatible for .NET frameworks, Active Server Pages or ASP, Visual Basic, C#, SharePoint, content built in Microsoft FrontPage, and using products in Microsoft Stack.
Windows hosting also offers benefits such as:
Simple and easy to use
Easy to manage
Easy to update
Flawless integration of Microsoft products to your site
Supports ASP, .NET, Visual Basic and C# scripting languages
Since it is a Microsoft's product, it is stable and reliable
Offers full security and safety of your site from rogue elements like hackers
Anyone who is new to hosting can also use it
You might get confused while selecting the best Windows hosting provider, so we've simplified everything and here are the best Windows hosting providers of Australia you can select for your site.
MilesWeb
MilesWeb offers professional ASP.NET hosting with SQL database on Windows 2016. They focus on top-level performance, security, and availability. They also offer best cPanel hosting, if you want to host basic website.
You get the programming and databases such as ASP/ASP.NET 3.5 and 4.6, MySQL, and MS SQL 2012 Express, PHP, SSICurl, MVC, AJAX, and GD Library. All of which will be professionally managed by the 24/7 support team.
Choosing MilesWeb for your ASP.NET project, you'll also get Plesk control panel, SSD drive free domain, free SSL and free migration. Additionally, they offer the highest uptime of 99.95%, 24/7 customer support and 30 day money back guarantee. So if you are looking for the most reliable and secure host, MilesWeb is the one.
MilesWeb Windows Hosting Plans: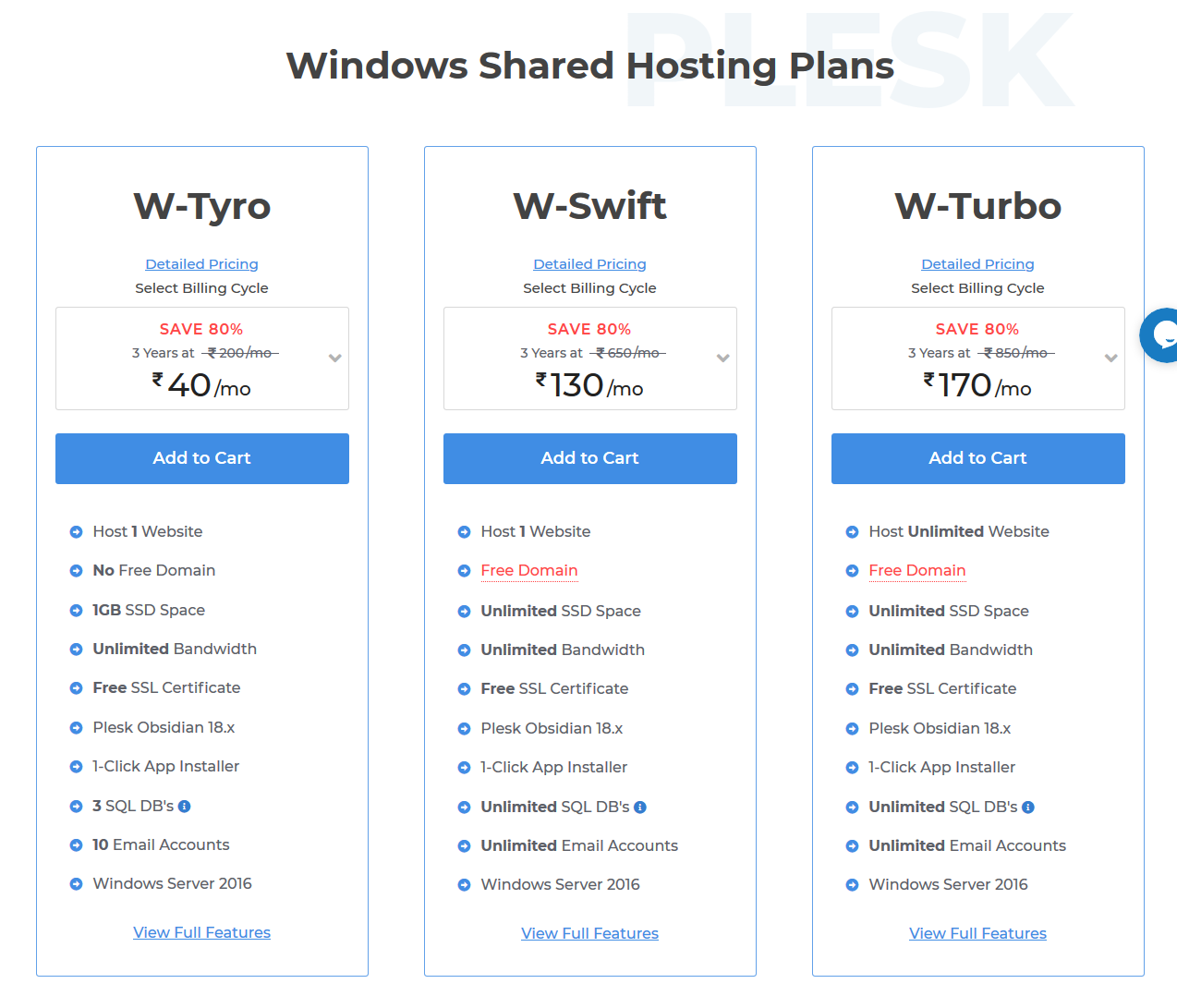 The pricing of MilesWeb Windows hosting starts at Rs.60/mo. This plan comprises of host 1 website, 1GB SSD space, and unlimited bandwidth.
Pros
High performance
Powerful and reliable servers
Excellent customer support
Cons
CrazyDomains
Crazydomains is a bit high budget option to host ASP.NET applications and websites. Crazydomains Windows hosting plan starts at Rs.298/mo, if select the plan for 3 years.
The next best Australian Windows hosting provider, Crazydomains offer Windows hosting built on the latest Microsoft Server 2016 and a dedicated network of Microsoft SQL 2017 Servers. With this, you get high performance security and scalability for your website.
CrazyDomains Windows Hosting Plans: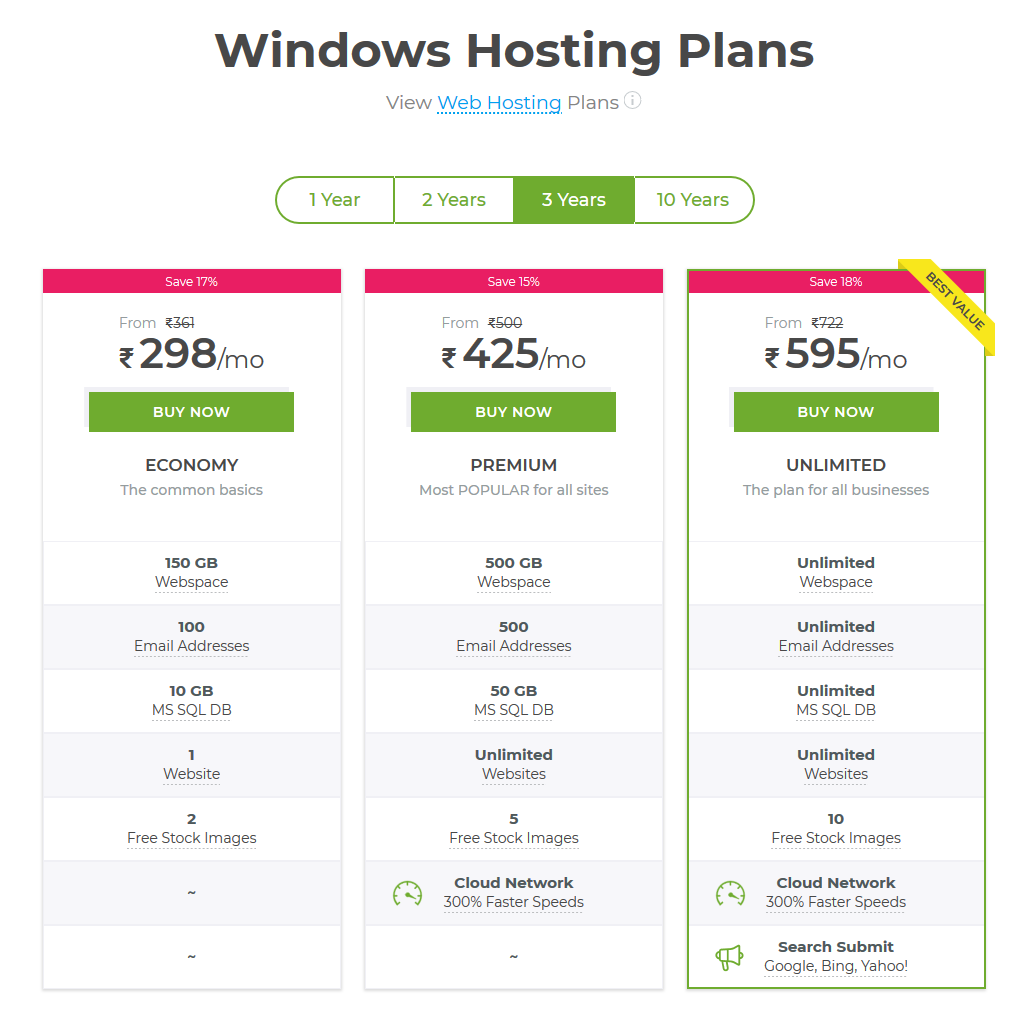 With their starter plan Economy, you get 150 GB disk space which is quite high for storing your website's data. This means, your project will get a lot of space to grow eliminating the overcrowded servers and poor performance.
The provider also offers other technical features for speed such as Windows Server 2016 and security such as DDoS protection. Additionally they also offer Plesk Onyx 17.5, file backups, one click apps, multi code support, 24/7 site monitoring, 99.9% uptime, money back guarantee and FTP access.
They have award winning tech support team comprising of experts working 24/7. You'll be able to contact them for advice via phone, email and live chat.
GoDaddy
GoDaddy offers all-inclusive shared ASP.NET hosting packages. They also promise to offer industry-leading performance and great reliability. Additionally, you get a bunch of premium features – free domain for the whole hosting period, backups, Onyx Plesk control panel, and instant 24/7 customer support.
You can use Classic ASP, ASP.NET AJAX, ASP.NET MVC3, and other toolkits, scripts, and frameworks for your ASP.NET hosting. GoDaddy focuses on customizability and reliability.
GoDaddy Windows Hosting Plans: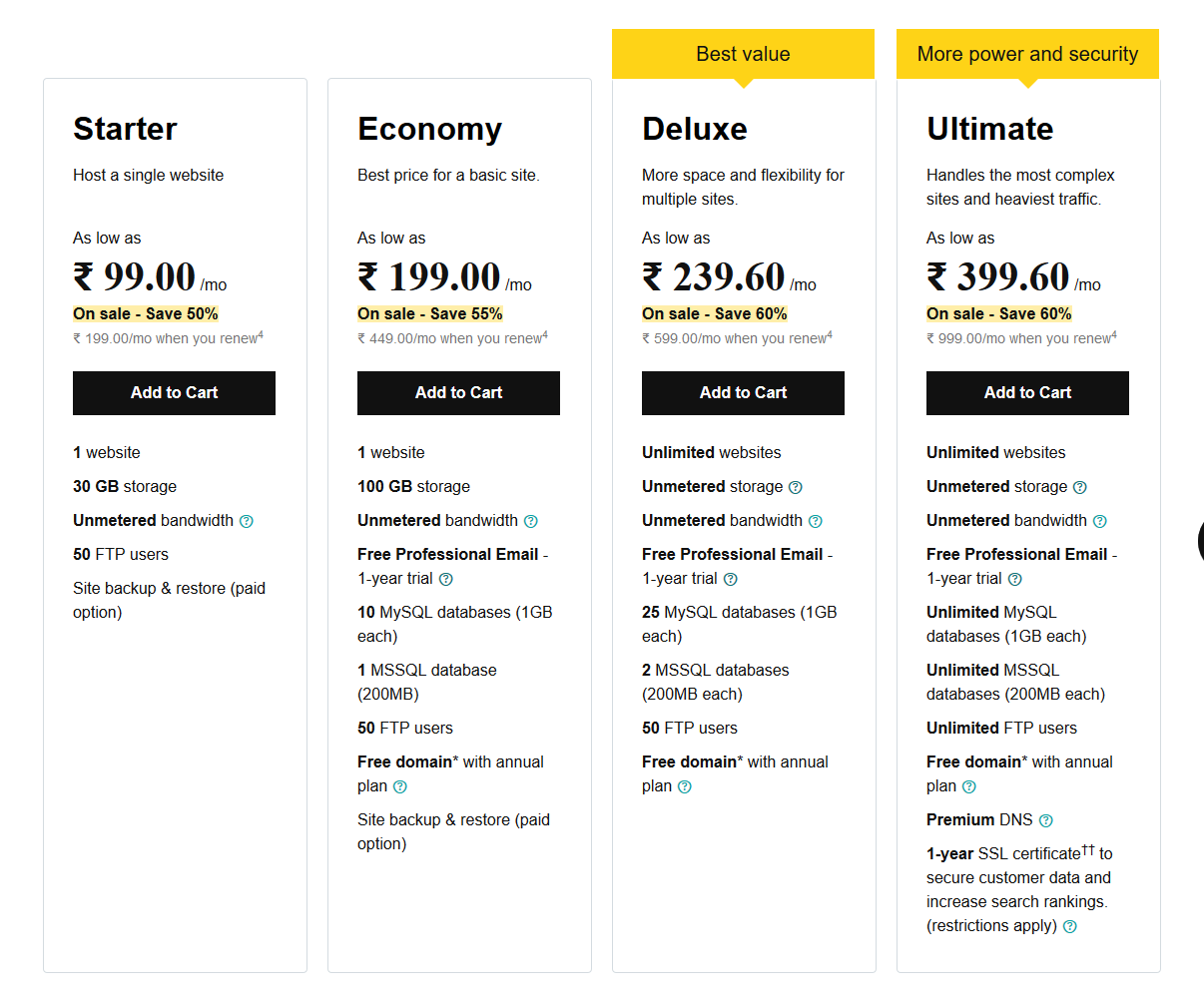 Godaddy offers 3 plans for Windows hosting as below:
The Starter for Rs.99/mo comprising of host one website with 30GB storage and unmetered bandwidth.
The Economy for Rs.199/mo comprising of host one website with 100GB storage and unmetered bandwidth.
The Deluxe for Rs.239.60/mo comprising of host unlimited websites with unmetered storage,
The Ultimate for Rs.399.60/mo comprising of host unlimited websites with premium DNS, SSL certificate, and unlimited databases.
Additionally, you also get 1-click installation of over 100 free applications, 24/7 monitoring and DDoS protection, 1-click purchase for CPU and RAM and 1-click setup for domains registered with GoDaddy.
Bottom Line
You can see that from the above providers, MilesWeb is the most affordable web hosting providers that offers similar features to the other two providers. The only issue with MilesWeb Windows hosting is that they offer server location only in India.
But the Cloudflare CDN solves the issue of website loading. So, I would recommend you to go for MilesWeb Windows hosting for your ASP.NET website.