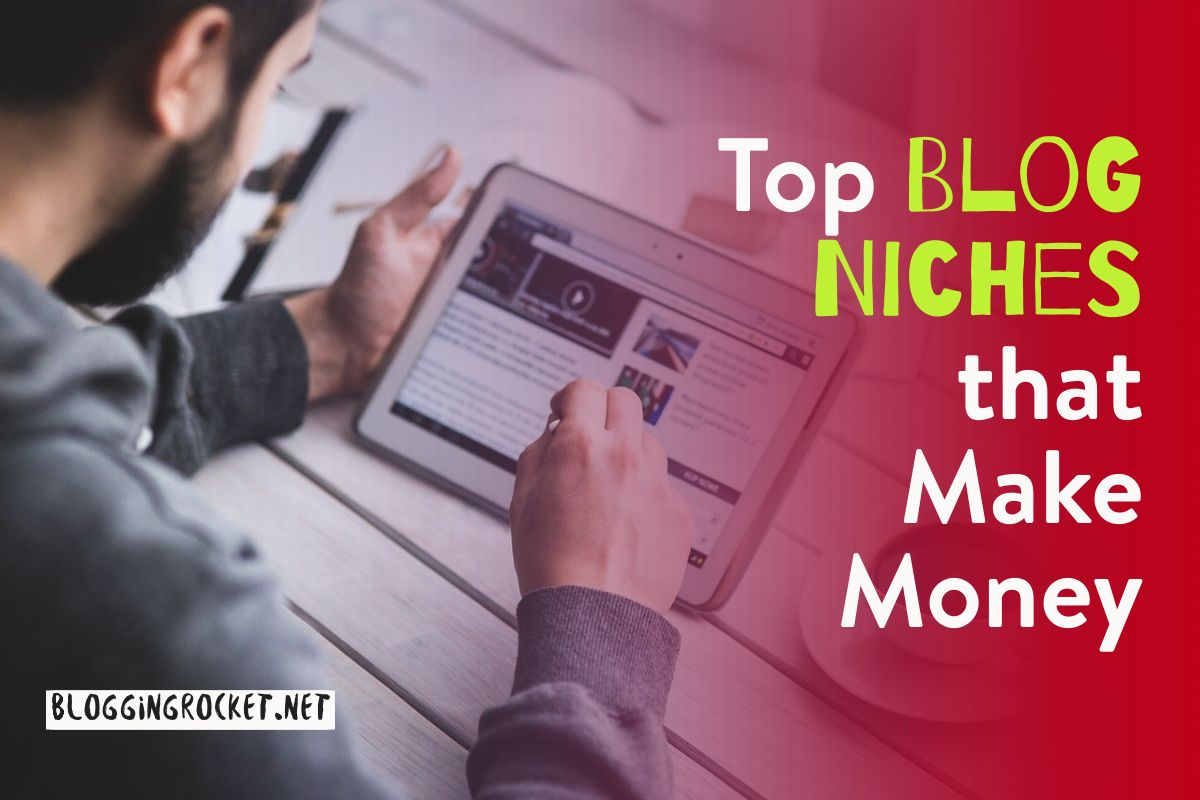 Blogging has been known since the nineties. It was mainly used to share people's day to day life, like a diary but online. When it became mainstream in the 2000s, people started finding ways to monetize their blogs. There are a lot of niches you can choose from to begin your blog. But what blog niches that make money can be effective in 2020?
There are 500 million blogs out of 1.7 million websites in the world. That's a lot of blogs to compete with. But not all of these blogs are active or are used to make money. Some don't know how to monetize their blogs. But of all these blogs in the world, there are only niches that can make money than others.
So, let us take a look on what niches are popular to make money this 2020. Whether you are planning to create one as a side hustle or planning to turn it into full time, choosing a niche is important.
WHAT IS A BLOG NICHE?
Niche blog is an act of creating a blog to reach a particular target audience. Choosing a niche can help easily target a particular audience. But narrowing down your blog to a very specific topic could be limiting.
Here's an example of a blog niche:
Let's say you want to start a blog about pets. It means you have to cover a lot of topics about pets and not to mention, different kinds of pets must also be included. However, if you want to start a blog about pets and narrow it down to, let's say dogs, then you can write all things about dogs only.
Besides narrowing down your target audience to get more traffic, you can also target a specific marketing or advertising group to hire your blog.
As mentioned earlier, you can focus on a very particular niche. Let's take the example above. You can start a blog about dogs, but you focus on dogs with special needs. You only write and promote all things for special need dogs. It is a great niche, but it's limited.
But, either way, you can monetize these blogs.
So, without further ado, here are the top blog niches you can monetize in 2020.
BLOG NICHES THAT MAKE MONEY
Technology
Technology is a lucrative niche. With almost everything ran by technology, there is no doubt many people enjoy reading, listening, or even watching anything about it. People want to get the latest trends, gadgets, and news about the topic. They want to stay updated.
Technology is a vast field. There is so much that you can cover, but it would be difficult. That's why you can narrow down your tech blog into something more specific.
Here are some examples of sub-niches you can focus on your tech blog:
Mobile Technology: You focus on all things related to mobile devices, from smartphones to smartwatches.
Health Technology: With a lot of advancements happening, the health industry leverages technology to help in the treatment process. You can create a blog about all the latest trends and news of technologies that the health industry can use.
Blockchain: Its more about cryptocurrency, mining, and trading.
Cybersecurity: It's a lucrative field in technology. It focuses on software, cyber threats, antivirus, and more.
Health and Wellness
Health and Wellness is another niche you can write about, especially this time when we are staying at home. It's one of the best niches to begin your blogging career. You don't even have to be an expert when you start your health and wellness blog. But being an expert and a guru can be a plus, as people will trust your suggestions or option.
You can also break down your health and wellness blog into a more specific topic, like the technology niche mentioned earlier.
Product reviews: You can write about product reviews that people can read. It can vary from anti-aging cream, health practices, and more.
Weight loss: You can also try a blog dedicated to all types of weight loss programs.
Healthy diet: Focus on writing about diet, other forms of diet, and more recipes.
Health: If you are a doctor, healthcare practitioner, or an expert, you can write anything about health, diseases, healthy practices to live a good and long life.
Beauty and Fashion
Beauty and fashion are also big niches in blogging. There are many sub-niche you can write under beauty and fashion. You can focus on women's fashion, men's fashion, beauty products, skin care products, or review different products.
Sometimes beauty and fashion bloggers are becoming lifestyle bloggers because they also cover their life from food to travel.
Parenting
We've heard of mommy blogs all the time. It's a past time mothers or stay-at-home parents do. If you often stay at home and take care of your kids, perhaps starting a parenting blog is a fun way to earn some money.
There is a lot to write about when you start a parenting blog. You can talk about your kids, tips for a first-time mom or dad, products you use, kid-friendly vacation places, and more.
A lot of new time moms (or dads) would appreciate this kind of blog, and they often turn to parent blogs for suggestions or tips.
Food
It has already been mentioned a while ago about recipes on the health and wellness niche. But if you want to write more about food aside from recipes for a specific diet, you can opt for a food blog.
With a food blog, you can write different recipes or share cuisines you have tried or want to try from different countries.
Food blogs may not earn a lot of money by selling their products, but it is compensated by having a huge amount of traffic. One notable food blog that makes over $50,000 per month is A Pinch of Yum.
Travel
Unlike before, traveling is expensive, but now there are cheaper flights and places to stay. You may wonder, how can a travel blog make more money when there's still the existing pandemic and travel ban across the world?
You can start a travel blog despite our current situation. You can write about your past travels, where you want to go, tips on first-time travelers, how much you missed traveling, or you can write about places to go in your town (since it's the only travel activity you can do right now).
It's better to start your travel blog today to get more traffic. When the pandemic is over, at least you already have a huge amount of traffic and followers.
Making Money/ Finance
The fact that you are reading this article only shows how people are interested in this topic. Making money blog can cover a vast subject. You can write about how to make money in X ways, how to save money, and more.
Dollar Sprout is a financial blog that talks all about money, and they generate $100k/ month.
Lifestyle
A lifestyle blog is a popular niche in blogging. Plus, there's a lot of opportunities to make money in this category. You can write anything about your life, such as travel, food, home décor, recipes, and a lot more. But when writing about lifestyle blogs, you must consider something that can benefit your readers to make it more profitable.
One popular lifestyle blog is A Cup of Jo by Joanna Goddard.
Movies, Music or Games
You can choose either of these three, as they are the most common form of entertainment, games being number one. You can write a review of a movie, music, singer, and video games. You can earn money in these niches, especially now that people are turning to other forms of entertainment since their outside activities are still limited.
CONCLUSION
If you are planning to start your blog, you have to choose which niche you want. A blog niche is important. It is to know who your target audiences are and to narrow down your topic instead of writing different subjects. It's also vital that you choose a niche that you are good at or have knowledge. It makes it easy to write about the topic.
With the right niche and proper SEO, you can get more traffic and more income from your blog.
Author's Bio
Vanessa Venugopal is a passionate content writer. With four years of experience, she mastered the art of writing in various styles and topics. She is currently writing for Softvire New Zealand and Softvire Australia.