Before you start running your own blog, it is important to keep several things in mind. In this post, I'm going to tell you about 15 tips that you must consider before starting your blog. Keep in mind that publishing a blog is not guarantee to success but publishing a well-planned blog.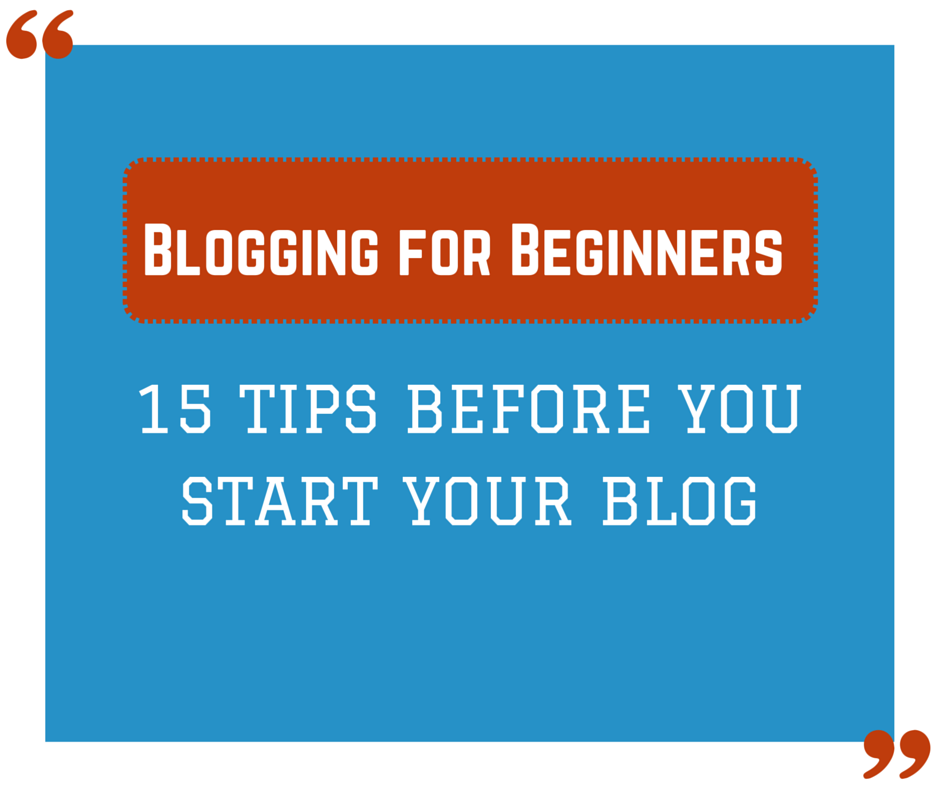 So, if you have finally decided to start working as a blogger then you must consider below 15 tips in your mind.
1 – Passion
In order to start any business, you need to have passion. If you are not passionate about your blog, you will never be able to run it successfully. Only start a blog in such niche you are passionate about. Many people start blogging and leave in the middle of it just because they don't like that kind of work.
2 – Purpose
You should have a purpose behind starting a blog. If you will search on the internet, many examples of such people will be found who had no purpose of starting a blog but they did anyway. In most of the cases, such blogs don't run for a long time and you end up as a failure.
3 – Niche
The most important thing to consider is the niche/ topic of your blog. If you think that you can write blog post about any topic then you are wrong. You may have the ability to write about any topic in the world but your readers will only like certain type of blog posts from you. That is why you should decide on a niche and starting working on it without wasting any time.
4 – Solve a Problem
If you are not providing solution to the problems of people through your blog then you are actually blogging for your own selfish reasons. People don't like to read such blogs that don't solve their problems. If you are not providing solution to the problems, no one will visit your blog at all.
5 – Personality
Your personality plays a vital role in the success of your blogging career. In order to make sure that your blog runs successfully, you should come up as a person with good personality. Have nice manners and try to solve other's problems. This will help you succeed in blogging career easily.
6 – Come Up with a Domain Name
Once you have decided about your niche/ topic, it is time to select a domain name. Keep in mind that the domain name that you have in mind may not be available. Keep different variations of your favorite domain name in mind and register it with a good domain registration company. You can read complete guide on domain selection here.
7 – Tag line
A tag line is really important for a blog or an online business. Tag line not only helps you create a slogan but also helps you represent your blog in online sphere with more confidence too. You should turn your readership into leads and your leads into customers.
8 – Pick Your Web Host
To publish your blog, you will have to buy a hosting package as well. Without a hosting server, you cannot publish your blog/ website. In the beginning, you should come up with an economical hosting plan that suits your needs
9 – Pick Your Theme
I would personally suggest you to install WordPress as your CMS on the domain. It is really easy to use and you can install your favorite theme as well. Always go for a theme that suits best to your niche/ topic. It is recommended to go for premium themes because they have better security and privacy in the online world. If you want to create custom genesis child theme, then you can follow this post.
10 – Pick Your Plugins
After installing your theme, it is time to select your plugins as well. There are certain plugins that you must install in your WordPress blog like Akismet, AudiPlayer, Broken Link Checker, SEO by Yoast etc. These plugins will help you manage and run your blog smoothly.
11 – Analytics
It is important to analyze the performance of your blog and for that reason you can use the most famous online tool called Google Analytics. The best thing about this tool is that, it offers deep insight about the performance of your website and it is completely free too.
12 – Content Strategy
Without a content strategy, you cannot run your blog successfully. Before publishing a blog, you should come up with a solid content strategy. You should know what kind of information you will be sharing on your blog. If you are going to cover different topics on your blog, it is recommended to divide those topics in different days. You should use Grammarly for better content Strategy because it is the best grammar checker tool to fix grammatical mistakes and to make your content free from plagiarism.
13 – List Building
List building is another important thing to do for bloggers. In the beginning, you will be getting random visitors on your blog who will become your readers with the passage of time. You should put a subscription box on your blog so that your readers can subscribe to your posts. This will help you drive more traffic towards your blog and earn more money in the long run.
14 – Monetization
There is no use of running a blog if you are not being able to earn any money from it. Once you have started getting some good amount of traffic on your blog, you should start thinking about monetizing your blog. In the beginning, you can sign up for different advertisement programs like Google AdSense, AdBrite, InfoLinks and Chittika Ads etc. Afterwards, you can sign up with Amazon and Click Back to sell affiliate products through your blog. This will help you a good amount of money each month. If you want to monetize your blog with google adsense then here is google adsense approval guide.
15 – Traffic Generation
The most important part of running a blog is bringing as much traffic towards your blog as possible. Keep in mind that bringing traffic towards a blog is not as simple as it may look like. You will have to put some serious efforts in this task. First of all, you should optimize your blog for search engines and secondly, you should opt for social media marketing (SMM) too.
If you will keep above 15 tips in your mind, it will become possible for you to run a successful blog as a beginner.
5 Things You Need To Be Prepared For When Starting A Blog
There are a lot of things that you have to keep in mind while starting a blog but before you start a blog, you should be mentally prepared for failures as well. In some cases, you will not be able succeed in your plans and sometimes, there will be a little delay before you finally start seeing the results of your hard work. One advice that I would like to give you here is to be patient.
It takes time for things to click in blogging world but once they start clicking, your entire life can be changed. In this post, I'm going to talk about 5 things you need to be prepared for before starting a blog.
1. Guest Post Rejection
As a blogger, you will not only be writing posts on your blog but you will be writing guest posts as well. In the beginning, you will have to reach out the popular blogs and offer them a guest post but once you will become a successful blogger, other bloggers will contact you and ask you to write a guest post for them. Guest posting is a great way to get more exposure towards your blog and also to gain some quality backlinks too. However, you should be mentally prepared for guest post rejection. In many cases, your guest post will be rejected but you should not let yourself down because you will learn a lot of things from rejection and you will not repeat same mistakes in future.
2. Delayed Monetization
If you are not making any money from your blog then I can understand your frustration. There are a lot of bloggers who are making thousands of dollars each month from their blogs and then there is you who is still waiting to earn his first dollar from his blog. As I told you earlier, it takes time for things to start clicking in blogging. You just need to be patient and wait for the time so that things start getting better for your blog.
3. The Give Up Moment
At many times during blogging career, you will feel like giving up all your efforts and divert your attention towards another field. Keep in mind that you are not the only person in the world who is thinking about quitting. Almost everyone in the blogging industry has gone through the same situation. As I said before, be patient and keep working with a steady pace. Soon, you will see the results that will boost your confidence level and make you motivated for blogging success.
4. Traffic Plateau
In the beginning, the traffic on your blog may be increasing day by day but after some time, you will realize that there is no certain growth in your blog's traffic. This can be a difficult moment for any blogger but I can tell you from experience that this time will be gone before you know and your traffic will start increasing again. Only thing that you have to do is to keep working hard and never let anything stop you from achieving your goals.
5. Content Criticism
Since you are a blogger who writes public posts, anyone can read your blog posts. It means that you will be getting a lot of comments on your blog. Some people will comment only for the sake of getting a backlink and you should throw them in spam folder. Some people will truly appreciate your efforts and ask about your opinion on a certain topic. The most difficult part is where you start receiving criticism. If you are not ready to tackle criticism and use it for your benefit then you will never be able to become a successful blogger.