Blogging has become one of the most popular occupations in the last decade with authors from all over the world publishing millions of posts every day. The reason is fairly simple – it doesn't require a big investment and you can do it from wherever you want.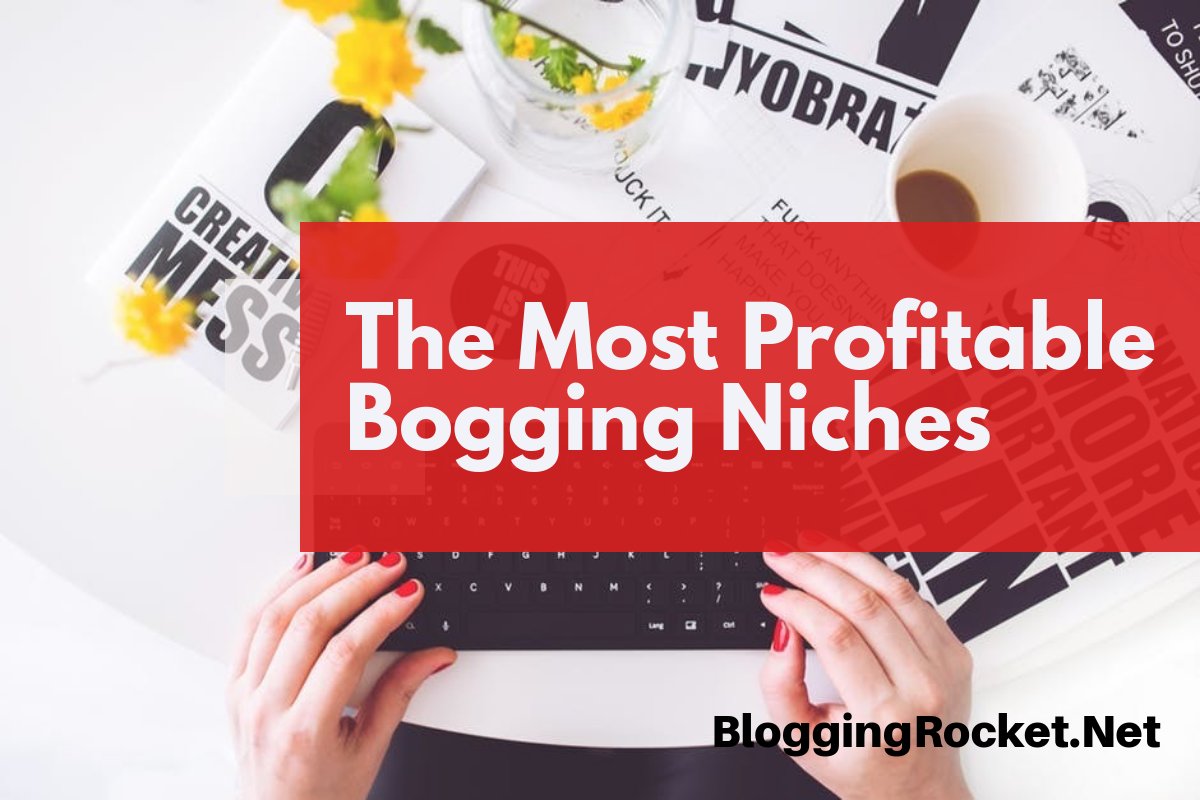 Dozens of studies have already proved the importance of blog writing for contemporary businesses and here are just a few stats to support this claim:
More than half of marketers say blogging is their top content marketing priority.
Over 80% of marketers who write blogs get a positive return on investment (ROI) from their inbound marketing activities.
Marketers who prioritize blogging efforts are 13 times more likely to see positive ROI.
According to Payscale, an average blogger earns almost $50K a year.
It's obviously a profitable business, so you might as well start thinking about launching your own blog. But you should not believe that it's easy to get your foot in the door with so many competitors out there. On the contrary, you have to think strategically and carefully choose a niche that really has the potential to bring you a long-term profit.
In this post, I will show you top 10 most profitable blogging niches to choose in 2020.
How Can a Blogger Earn Money Writing?
Before I present you the most lucrative blogging areas, I need to explain how blog writers earn money in the first place. Most people find this issue confusing, so you should learn some basic solutions in this field:
CPC & CPM: Most blogs use Google AdSense to find advertisers. It's an automatic solution that finds sponsors based on the content of your blog. The tool displays keyword-related ad in your posts and you earn money every time someone clicks on it (Cost per Click). On the other hand, blogs with higher traffic often use the Cost per Mile method, generating revenue for every 1000 impressions.
Affiliate Marketing: Using this business model, you will refer people to the specific product or service and earn a commission for every item sold through your blog.
Selling Advertising Space: Paid ads are a traditional way to earn money blogging. You can sell webpage space for banners or floating ads, earning money simply by displaying ads on your site.
Sell Products: A blog allows you to sell your own products. These could be digital products such as apps, graphic design elements, or case studies, but you could sell physical products of any kind as well.
Things to Consider Before Launching a Blog
Now that you know how you can capitalize on your blog, you should also learn how to find the best niche. Blogging is no different than any other sort of business, so you need to approach it studiously and analyze it from three points of view. Here they are:
How big is this niche?
You could be writing the most amusing articles, but it won't bring you too much profit in case targeted niche is too small. You should aim for a bigger market that has the potential to attract new followers day after day. When you find such niche, you need to choose a domain name that resonates with the needs and expectations of an average follower. Also, you must host your website with a reliable web host such as Godaddy or Bigrock so that it is available 24/7 for your visitors.
Target audience income level
Some niches can attract a lot of readers, but they cannot bring you enough profit because of the low-income level of the target audience. You should bear this in mind and try to find a niche that gathers not only passive content consumers but also active shoppers who are ready to engage and spend money after reading your posts.
Can you handle it?
This is the last but certainly not the least important aspect. Can you handle writing about the same industry week after week? Do you know how to write a good blog post in this field? We strongly recommend you don't engage in blog topics that don't match your private and professional interests. But if you are a well-experienced expert in one field, you should not wait to launch your own blog.
You've learned a lot of blog-related details so far and it's time to give you an overview of the top 10 niches to consider in 2020, followed by some real examples of the most profitable authors. Let's check them out!
Top 10 Profitable Blogging Niches To Make Most Money
Parenting
Raising a kid is not easy, so most parents look for practical tips online. The niche itself clearly has a huge potential as you can divide it into many different sub-sections (toddlers, twins, preschool kids, etc.). Of course, you shouldn't write about parenting if you don't have real-life experiences with it because the audience will soon recognize that it lacks authenticity.
Scary Mommy is one of the most successful parenting blogs with thousands of loyal followers. It offers a variety of topics. From pregnancy to teenage children, you can find it all there.
On the other hand, Money Saving Mom takes a different approach and leads a frugal diary. It is best known for its creative ways to pinch pennies, which is, of course, a very popular topic among parents.
Tourism
The travel and tourism industry is one of the world's largest industries with a global economic contribution of over $7.6 trillion. Millions of people travel every day and they all want to learn more about their destinations. You can write about:
Hotels and accommodation
Places to see
Transportation
Tickets
Bars and restaurants
Night life
Living abroad
Dan Flying Solo is one of those blogs that turned the passion for traveling into a full-time source of income. Dan supports his posts with amazing photos and videos, which makes the blog even more entertaining.
Lili's Travel Plans put a greater emphasis on emotions and people stories. The author's approach is a little bit alternative because she wants to "show you there's so much more to traveling than just seeing things".
Food
I don't even have to tell you how important food industry is for everyone. After all, we all have to eat every day! It's a niche that gives you a plethora of choices. Depending on your skills and interests, you can write about fine dining, fast food, homemade stuff, and many other topics.
The Fine Dining Lovers blog gives you an incredible preview of the premium category. It shows you the masterpieces of international cuisines along with recipes, culinary trends, and industry news and events.
However, you can find blogs with suggestions for everyday cooking like Bizzy Lizzy's Good Things. It covers a vast array of topics and the best thing about it is that you can use most of these recipes to make meals in your own kitchen.
Health
With all that tech addiction and focus on IT gadgets, people are becoming more inert and physically inactive. It inspired a strong reaction, so now you have a myriad of bloggers writing about health and the corresponding themes such as fitness, diet, and so on.
This niche doesn't require too much experience as you can research and learn about it quickly. But even if you occasionally lack relevant subjects, you can always consult professional assignment writers to help you out.
Jennipher Walters and Kristen Seymour administer health & fitness blog called Fit Bottomed Girls that reaches millions of women (and even men) each month. The secret of their success is the same as with other profitable blogs – it writes about the popular niche with a little twist. According to the authors, the purpose of this blog is to look for a fun, fresh and no-diet approach to being healthy.
Personal Finance
If you've never worried about how to make ends meet, then you must be a millionaire or something. In all other cases, you are just an average person who has to take care of personal finance just like billions of peers around the globe. This is exactly why personal finance blogs attract a lot of followers.
Financial Mentor made a breakthrough thanks to its articles about savings money, calculating monthly budgets, smart investing, risk management, etc. It's an all-encompassing blog that gives people simple but doable suggestions about wealth building.
There is also the option to concentrate on a more narrow area of interest like The Retirement Answer Man. This blog answers more or less every retirement issue you can think of.
Fashion
The value of the global fashion industry is $3 trillion, which makes 2% of the world's entire GDP. The market size is gigantic, while it also doesn't lack writing opportunities. You can go with shoes, menswear industry, bridal wear, luxury goods, and tons of other sub-niches.
For instance, Men's Underwear Blog focuses only on this small section of male fashion. Although they write about swimwear, underwear, thongs, and jockstraps exclusively, it's still more than enough to ensure global popularity and high income.
At the same time, Gabi Fresh decided to write for younger and trendier women sizes 14 and up. It's another example of how you can stick to only one but very concrete part of the fashion industry and make a big profit out of it.
Lifestyle
If you thought previous niches were vast and complex, what would you say about lifestyle? It covers pretty much everything people do every day – interior design, leisure time, entertainment, movies and music, social gaming…
A Beautiful Mess is one of those blogs that exploit the sheer complexity of everyday living. They write about food, décor, craft, style, natural beauty, and all those little things that make out lives interesting. Although it sounds simple, lifestyle niche generates a lot of profit and this blog is one of its most productive contributors.
Gaming
Online gaming skyrocketed with the emergence of powerful IT devices, becoming one of the most rewarding blog niches. The followers are usually teenagers and 20-something guys who don't save money in the attempt to learn more about their favorite games. You can write app reviews, game tutorials, comments on new releases, etc.
Shack News is a blogging platform that provides readers with gaming news, guides, reviews, cheats, and all other details that the average gamer considers essential. This blog summarizes niche basics to create an extensive resource of gaming articles.
On the other side, Touch Arcade focuses on a more classical side of the gaming sphere, proving that you can run a lucrative blog even if you don't try to attract all of the potential followers.
Sports
This niche is pretty much self-explicative. Most men love sports and it's only up to you to decide whether you want to write about multiple disciplines or stick to one or two that really make you an expert. The competition in this field is harsh, but you will definitely grab a piece of market share if you can write great posts.
ESPN is a real giant in this niche as it covers almost everything there is to know about basketball, football, and many other disciplines, including X Games. Meanwhile, Bacon Sports is a sports blog with a twist – they write funny posts about modern sports but still manage to keep regular sports fans informed and entertained.
E-Learning
A global e-learning industry is on the rise since IT devices and modern channels of communication allowed almost everybody to engage and study online. It's also a profitable niche for blog writers who can create articles about languages, web development, marketing, or any other topic for that matter.
The E-Learning Provocateur platform proves how simple it is to administer a profitable blog. It runs on a basic WordPress theme but displays superb creativity in finding and explaining technology-related topics. There's no need to get things complicated and this blog proves it day after day.
CONCLUSION
Writing a blog can bring you a lot of money in the long run, but only in case, you choose a niche that corresponds with your skills and the needs of the target audience. You need to pay attention to the market potential and streams of income, but the most important thing is to find the right area of interest.
In this post, I showed you the top 10 most profitable blogging niches to choose from in 2020. Which one do you find most interesting? Do you have other suggestions that might be as profitable as these? Feel free to share your ideas in comments and let me know if you have any questions about this topic – I would be glad to answer you!
AUTHOR BIO
Mark Thomson is an experienced Internet marketer and writer from New York. Mark derives inspiration from blogging and loves to share professional ideas with the audience. He is a passionate traveler and adventurist.