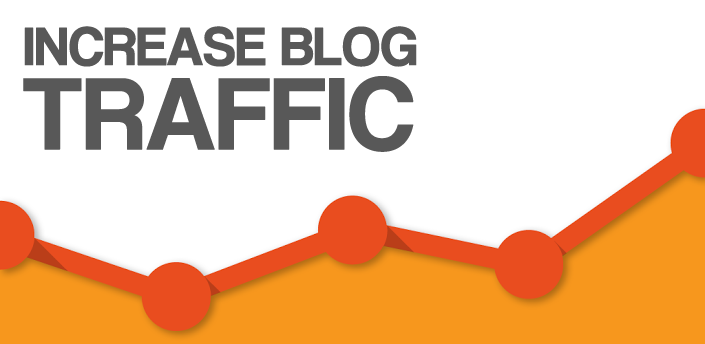 As the trends in blogging is changing rapidly, we should always look for the new ways to build traffic to blog. The old techniques of building blog traffic are outdated and now its time for some advanced traffic building techniques. With impact of google humming bird it is evident that we cannot guarantee the traffic from google for a long period. Because we cannot guess when we may loose our blog traffic and rankings with any of the google updates. So we should not depend completely on google for traffic. We should always have alternatives to build traffic to our blog. Here i listed the best strategies to drive traffic to your blog and increase your earnings.
A blog's traffic is one of the most weight carrying properties of a blog. You need to work a lot in order to get traffic. As it is an important thing it also deserves owner's attention and hard work. Today I'll tell you one of the basic things you should do in order to increase your blog's traffic. Here is Increase Traffic By Social Network Sites For New Blog.
 Domain Selection : Domain name play an important role in success of blog. You should pick up tld (top level domain). You can read more on domain selection tips and tricks here.
Write Good Content: The first thing you have to think about is what you write in your blog. If you'll write something that is already easily available on web then you won't get any traffic because all of the users will be directed to those sites which are already highly ranked. You should try to post innovative, informative and attractive content in order to get the attention of users. Post something that is more important and interesting to users. Post something that is not already available on web. In this way, more and more users will start visiting your blog.
Choose a Great Title: When you search something on Google and find links in blue, before clicking a particular link what do you see first? The green line which shows the exact URL of the website. That's what makes a user decide whether he/she should open it or not. If it's something that appears useless then no one is going to open it but if it appears good and looks more professional then surely user will open that link. So that's what have to focus. Choose a short, professional looking and meaningful blog title.
Optimizing Your Blog For Search Engines To Increase Organic Search Traffic: Sorry I can't write an article on traffic building without this point. Though i mentioned that we should not depend on google for traffic, but it is obvious that the traffic we get from google is higher than any other source. So you should always focus on optimizing your blog for search engines by applying basic search engine optimization(SEO) tactics. But we should not merely depend on google. we should always have alternatives for building blog traffic in order to sustain even after many google updates
Design of Your Blog: Design affects traffic heavily. If the design of your blog is complex having too many divisions, sections and buttons etcetera then user won't like to see your blog. He/she will just click the back button before reading what's actually written there. So even if you have good content but you have a bad design then your good content is totally useless. Try to design your blog in such a way that it looks simple and attractive but along with that it should be very easy to use. Try to make it as much user friendly as you can. But remember one thing, don't add too many things in its design as it will slow your blog's speed down.
Publicize It: Once you have clearly focused on what's written above, your blog needs publicity. You have to tell your friends about your blog. Tell them to take a view and browse it and also share with their own friends. This will help you get more traffic but it only depends upon whether your friends liked your blog's content or not. If they don't then they won't share it either!
Link Exchanges: It was old method to increase blog traffic but you can use this traffic generation tricks to increase blog traffic. Try to search for blogs that have and share the same material which you do. Ask them if they accept link exchanges. If they do then what you to do is that they will put link of your blog on their blog and you have to put their blog's link on your blog.
Guest Posts: Guest Posting is one of the routine way to build backlink's and traffic to blog. Honestly speaking, Guest posting really helps in getting backlink's but cannot drive much traffic to your blog. Guest posting on high authoritative blogs may drive you some decent traffic. But guest posting on low authority blogs cannot drive much traffic to your blog.  If you're confident enough that you think that other bloggers will like and appreciate your blog's content then search out for other blogs whose posts are relevant to yours then check out whether they accept guest posts or not. If they do then carefully write a nice attractive post on their blog and in the end of the post give your blog's link as well.
Build Traffic To Your Blog by Promoting in Social Media: Social Media plays a crucial role in getting traffic to a blog. Most of the bloggers merely depend on search engines for traffic and gets disappointed when any of the recent algorithm update vanishes their traffic and rankings. As an alternative to search engines, we can use social media effectively to drive massive traffic to our blog. Just we need to explore the new ways of building traffic using social media. Be active on your social profiles like Facebook, Twitter, Google plus and get huge followers. Promote your blog posts in your social profiles. The only formula in getting traffic from social media is to get more no of followers. create a Facebook fan page and join some groups under your nichie. The more you will be active in social media, The more followers you get. The more followers you get, The more traffic you get to your blog. Just focus on the below formula.
Active In social Media = More Followers;
More Followers = More Exposure to your blog posts;
More Exposure To Blog Posts = More Traffic To Blog.
The best social Networking sites which drive a massive traffic to your blog are Facebook, Google+, Twitter, LinkedIn, Stumble Upon, Reddit, Pinterest and the list goes on. Here is an article on wikipedia about all the list of social networking sites.
Tips To Build Blog Traffic Using Social Media:
Create Profiles in Facebook,Google+,Twitter,LinkedIn,Stumble Upon,Reddit & Pinterest.
Create a fan page in Facebook and Google plus
Join And Be Active in Facebook Groups under Your Nichie.
Attract New Bloggers by responding and solving their queries.
Stumble Each and every blog post.
Share your blog posts in As many Social Profiles as Possible.
10.Increase Blog Traffic by Posting in Forums:
We can also increase traffic to our blog by posting in forums. But we should be very careful while posting our blog links in various forums. Other wise we may get banned from the forum by the admins. Our Links should not look as a promotional link.
Forums are active and many people are interested in visiting forums because the main aim of forums is discussing about a particular topic, problems and solving the queries posted by the members. So if we use forums for posting links from our blog, Then the admin may consider you as a spammer and ban you from the forum permanently. So we should post the links in such a way that it should not look as spammy. We should post link in an appropriate place where there is a need for the link. Let me explain you this with a clear example. Consider a sample question and answer i mentioned below.
Q: I thought of promoting my blog using stumble upon. can i proceed with stumble upon ? can i get my required traffic from this ?
Various answers to this query will be as follows
Answer 1:Yes stumble upon is good.
Answer 2:Yes stumble upon brings a lot of traffic to your blog. Go with it.
Answer 3:check this link here I explained clearly about stumble upon(link to your post).
Answer 4:Yes stumble upon is really a good choice to drive traffic. Stumble upon is an active community with most of the bloggers who are participating actively on it. When we share a page in stumble upon the page will be sorted according to the topic and featured in stumble upon under the specific topic. So that the people who follow that particular topic will go through your post. In this way you can drive traffic to your blog. If you need any more assistance about stumble upon, this link may help you.(link to your post).
By looking at the four answers, which answer will be considered as useful ? obviously answer 4. As some of the forums wont allow sharing links, When an admin moderates this thread, Then he will treat answer 3 as spammy and may ban the person who answered.
The point here is answer 3 and answer 4 both consists of links. But the admin treats only answer 3 as spammy. Because of the following reasons.
| | |
| --- | --- |
| Answer 3(why it is spammy ?) | Answer 4(why it is not spammy ?) |
| Answer is not clear. | Answer is very clear. |
| People should go through the link on order to know details about stumble upon | There is no need to go through the link. The answer is clear with what they need. |
| Answer is in such a way that the visitor is forced to go through the link. | Visitor is not forced to go through the link. He may go through the link if he want more assistance. |
| Forcing the visitor to go through the link by not providing the required answer and mentioning to go through the specified link | Answer is very clear and the visitor may satisfy with the answer. visitor may go through the link if he want more assistance. |
| Looks like the user is spamming by posting his own links. he mentioned I explained. That means he posted his own link. | Never be considered as spam. because the answer is clear and mentioned if you need more assistance, This link may help you. That means the link posted may belong to the person who answered or from any other blog. |
If you post the link by following the above tips, then your link will not be considered as spammy while posting in forums.
11.Build Traffic By Creating You Tube Videos:
Video tutorials are much clear and understandable. So most of the people interested in videos. You have to create video tutorials for your important blog posts and upload them in youtube by sharing the link to the original article in the description of the video. So that any one who viewed your video in youtube will go through the video and finds the link to your original article. In this way you can exposure your blog to more no of people by creating videos and uploading in youtube. Some people are active in daily motion also. So after creating your video, upload it to both YouTube and daily motion.
12.Organize Contests and Give away's To Drive Massive Traffic To Your Blog:
This is the present trend followed by most of the pro bloggers to attract more visitors to increase traffic to their blog. Organizing contests and give away's will increase your blog traffic at a rapid speed. Most of the bloggers are interested in participating give away's and contests to earn gifts and cash rewards. So This is the best way to drive traffic to your blog.
After finishing the contest or give away your traffic will be decreased. To overcome this, Make sure you grab the attention of the visitors who come to your blog to participate in the contests or give away's by exploring all your important blog posts and your quality content. Make them to subscribe for your mailing list and other social profiles. In this way you can connect with them even though after finishing the contest or give away.
13.Build Traffic by Creating Infographics:
Creating infographics is the recent trend followed by many bloggers for creating a high quality content. Infographics are emerged by taking the point "an image can speak 1000 words". Infographics are becomming much popular in these days because by creating infographics we can expose the content which we want to deliver to the visitor in a much organized way with clear graphics and images.
Inorder to create infographics, you should be perfect in any of the graphic designing tools like photoshop, coreldraw, etc. But there are many paid services who can create infographics for you. If you are not perfect in graphic designing, you can go with the paid services on creating infographics.
So getting to the point of creating infographics to drive traffic, By creating a quality infographic, people will show much interest in sharing it with others. If you create a quality infographic, then it will go viral and exposured to more no of people because people are interested in sharing infographics. Some of the bloggers even embeed your infographic in their blog. So that you can get more traffic and also a backlink.
14.Increase Traffic By Conducting Interviews And Posting Success Stories of Pro Bloggers:
Honestly speaking, Conducting Interviews of pro bloggers and sharing their success stories in your blog really works well to drive a massive traffic to your blog. Because pro bloggers are already established in blogging industry and are much successful in blogging. So all the fans and followers of pro bloggers want to become like them and interested to know about the pro bloggers journey in blogging and want to know the steps they have taken to become successful. They are much interested in knowing more details about the pro bloggers. So by sharing the interviews and success stories of pro bloggers in your blog, You can target all their fans and followers and attract them to your blog. This really works and can increase your blog traffic rapidly.
15.Build Strong Mailing List To Connect With Your Readers:
Mailing list helps in connecting with your blog visitors. Make sure you collect the e-mail id of your visitor to subscribe for your mailing list. Place mailing list subscription box in your blog. By creating a strong mailing list, you can connect with your visitors by informing them about your latest posts. This may increase your loyal visitors.
16.Get Traffic From Your Competitor's Blog:
You can also get traffic from your competitor's blog by targeting their blog post which is relevant to your post. You can comment with your article link on your competitor's blog post which is relevant to your article. But just wait. Your competitor wont accept your comment. He will delete it immediately upon his review. In order to make your comment acceptable by your competitor, Follow the below tips.
While commenting on your competitor's blog post your comment should not look as spammy or a promotional comment. Your comment should be clear and mentioning the highlights in your competitor's post. First you have to read the entire content posted by your competitor and comment according to it.
For example If your competitor had posted an article about "Making Money online." Then your comment should be in such a way that it should be satisfied by your competitor. Your comment should look similar to the below comment.
Hello Admin,
The way you have exposured the ways of making money online is really good. I was really impressed by your post and mainly by the third point in which you shared the ways of making money online by writing paid reviews. Not only the third point all other ways you have mentioned are really useful and helps the newbie bloggers. In Extension to your post i have some more ways of making money online which i have shared in my blog. I would feel better if you go through it and give a feed back about it. The link to the post is (your post link)
Thank you.
Regards:
Your Name.
If you post your comment in the above way then there will be high chances of approving your comment by your competitor. Because the comment is very clear and explaining about a particular point in the post gives a positive impact to your competitor that you have actually read the article. Below i shared the tips about how to comment on your competitors blog in order to make your comment get approved.
Tips To Follow While Commenting On Your Competitors Blog:
Never comment before reading the article.
Never comment with a single line comment.
Give a detailed description of your opinion about their blog post in your comment.
Your comment should not look like spammy.
Try to be the first commentator to drive more traffic.
If you follow the above tips while commenting on your competitor's blog, There will be more chances of your comment to be get approved by your competitor and can increase traffic to your blog.
17.Drive Traffic Using Slide share By Creating Slides:
This was one of the unique way to build blog traffic. In the recent google updates, slide share ranked well in the search results. Un fortunately it doesn't last for a long period. But there are many people who actively share and view the presentations on slide share. So creating slides and sharing them on slide share can bring you a decent traffic to your blog. Create slides for each and every post and share them in slide share to gain more traffic to your blog.
18.Directory Submission:
You can get some decent traffic by directory submission. If your blog gets displayed in top directories like DMOZ, Then you can get good amount of traffic from that directory. Even though other blog directory's can drive traffic but not as much as expected. You should depend on this just as an alternative and one of the way to build blog traffic.
19.Sharing Widgets and Templates:
This method is primarily used for getting backlinks and then to drive traffic. By sharing widgets and templates we can drive some decent amount of traffic to our blog. But make sure you mention the links as nofollow. Because google treat links in widgets and template's as spam and can penalize your blog.
20.Advertising Your Blog:
This method is useful for building targeted traffic But require to expend on it. Advertising your blog to grow traffic helps you if you have decent traffic and want's to increase your traffic. If you are earning 500$ from your blog, Then you can spend 100$ to drive traffic to your blog. Of course there are many blogs which are building traffic without advertising their blog and without paying for the traffic. It depends upon the ways you follow to build traffic to your blog.
I hope the above mentioned tips helps you in increasing your blog traffic. Share your views about this article in the comments below. If you have any new unique way to build traffic to blog, Then you can always feel free to share it in the comments. Thank you….:)