The comparison of Squarespace vs WordPress is going to be a little difficult because both of them are the world's one of the biggest web building platforms. Both have the capability of making beautiful sites.
If you are planning on making a website but you are confused that which web building platform should you choose between WordPress and Squarespace then you are at the right place.
WordPress and Squarespace both have their pros and cons. We have discussed the main pros and cons of these work building platforms so that you can choose the best one which suits you.
So let's start the Squarespace vs WordPress comparison.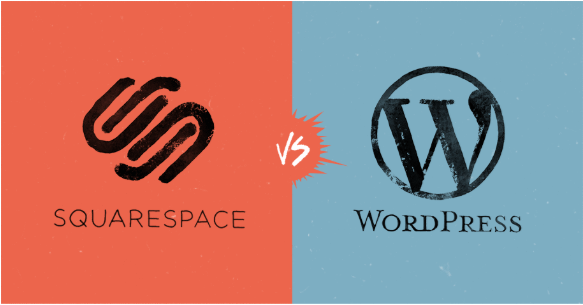 WordPress.org
WordPress is the world's most popular web developing platform. It is actually a Content Management System (CMS) and there are two versions of WordPress.
WordPress.com-

Also known as Hosted WordPress.

WordPress.org

– Also known as Self-Hosted WordPress.
But, here we will discuss about only Self-Hosted WordPress because most people use this only.
In your hosting, you get an option to install WordPress because Self Hosted WordPress is a software which you can download from WordPress.org. And the reason behind its popularity is that it is open source, which means that the code of your website is fully editable by you. So you have the knowledge of programming then you can edit the codes and make your website as you wish.
Also Read: Best WordPress Page Builders
Squarespace
Squarespace is a 'SaaS' type of website builder where 'SaaS' stands for 'software as a service'. Here you will get a domain, hosting, plenty of different types of templates, content management system, support, etc but you will play a monthly charge for it.
Like WordPress, Squarespace also has two versions, but don't worry, Squarespace has only one website where you can choose the version as an option. The two versions are:
Standard Version-

The 'Standard Version' of Squarespace is widely used by its customers because it doesn't need any skills of programming or coding. Anyone can make a beautiful website on it without any knowledge of programming or coding.

Developer Version-

The 'Developer Version' of Squarespace gives access to the source code of the website. This means that you can edit the website in the way you want. But, to edit the website you need knowledge of programming or coding. That is why this version is generally used by web developers or programmers.
Ease of Use
Squarespace simplified interface is amazingly natural; and its style editor rolls out it quite clear to the improvement of essential basic design elements in the template, textual style hues, heading sizes, etc. You simply point at the designing components you need to change and snap a few controls to transform them.
Once a WordPress site is set up, it isn't difficult to maintain it afterward. And it depends on your web hosting provider for, setup and arrangement because it can be a bit fiddly, yet once you're up and running you'll see that the WordPress Content Management System (CMS) is very easy to handle and exceptionally responsive.
In contrast, I would say that most people who are new to website building will find it easy to work up with Squarespace because it has very friendly nature and with WordPress, the new users will find a little difficulty in understanding the concepts but it is exceptionally functional too.
Also Read: WordPress Travel Themes
Flexibility
As you know WordPress is an open source platform so anyone and can tweak or customize their codes. One of the reasons that why WordPress became so famous is that due to its open-source platform any web developer or programmer can create plugins or templates, etc with their knowledge of coding and can provide it to all the users of WordPress for free or they can event sell their plugins or templates. This makes WordPress websites extremely functional.
And for Squarespace, you know that it is not an open source platform so its codes are only under the Squarespace Developer Team. They can only create plugins, templates, etc and provide it to its user.
On contrast, I would say that the Squarespace might have limited themes, plugins, etc but are tested and optimized so that it doesn't create any problems in the website like security threats or problems in SEO. But in the case of WordPress, anyone can develop its plugins, themes, etc so they do not guarantee the quality of the things. They might be harmful to your website.
User-Support
WordPress powers 31% of the internet websites, so you might be thinking that how enormous the community of WordPress would be. They have a never-ending gigantic community which has tons of resources and tutorials to help in your problems. But if are having problems with any specific plugin or theme then you might have to contact its developer to get a good support.
First of all, the chances of having a problem with Squarespace is very, very low because all its tools, templates, etc are tested by themselves. But if you have any problems regarding build the website then they have their support team providing live chat, email support, workshop videos, support articles, and a community forum.
In a contrast I would say that Squarespace has a very good dedicated support team who provide amazing help and WordPress, being such an enormous community, they have lots of tutorials but are not organized, so you might have a problem in finding support.
Ongoing Maintenance
Organized WordPress keeps updating its platform multiple times in a year for security updates, bug fixed or glitches. So, anyone using its platform needs to update their WordPress website too to be updated. The popular plugin or template developers also update their products so the developers might give the new update only compatible with the new version of WordPress so in order to update the plugin or theme you will also have to update WordPress.
In Squarespace all the updated are done to your website automatically, so you don't need to worry about the updated regarding the plugins or themes you are using.
In contrast, I would say that WordPress has to keep a lot of maintenance and works to keep the website run smoothly but is also more powerful than Squarespace.
And in Squarespace, you have to do nothing about its updates so it's better for newbies.
Also Read: WordPress Website Trends
Pricing
Pricing is also one of the most important considerations if you are going to build a website on a platform.
In WordPress, you will have to buy your own hosting, domain, theme and additional functions. In hosting, it would cost around 2.95$ per month in general and a domain name would cost around 10$ – 15$ per year.
If you go to buy a custom template then it would cost you 30$- 150$ depends upon the theme you choose. So, the all total pricing of WordPress would cost you 120$ – 1000$.
Squarespace has four pricing plans:
Personal – 16$ monthly
Business – 26$ monthly
Basic (For eCommerce) – 30$ monthly
Advanced (For eCommerce) – 46$ monthly
These plans come with a free domain. These plans are best for you if you are a newbie.
Also Read: Is WordPress a Right Choice for an E-Commerce Website?
Wrapping Up
So, now you have got to know about WordPress and Squarespace features. So, it's totally now your decision which one suits you and the type of website you are making. As I already mentioned that WordPress is very powerful and functional when compared with Squarespace but it would be a little tough for a newbie to understand those stuff.
While Squarespace is having a very user-friendly interface and can easily build a beautiful website. I would recommend that if you are new to website building then choose Squarespace. But if you want to make a very powerful and functional website then go with WordPress.
So this was the Squarespace vs WordPress comparison. Hope you guys have liked it. Comment your thoughts.