Landing pages are one of the best ways for capturing online leads. In the old days, webmasters had to contact and pay developers each time they were interested in launching a new landing page. Today, WordPress has changed all these things. You can build, integrate and test landing pages through a drag and drop tools without requiring any technical knowledge. Before starting out on building quality landing pages, you need the right plugins. Here are 9 of the best WordPress Landing Page Plugins to use for marketers: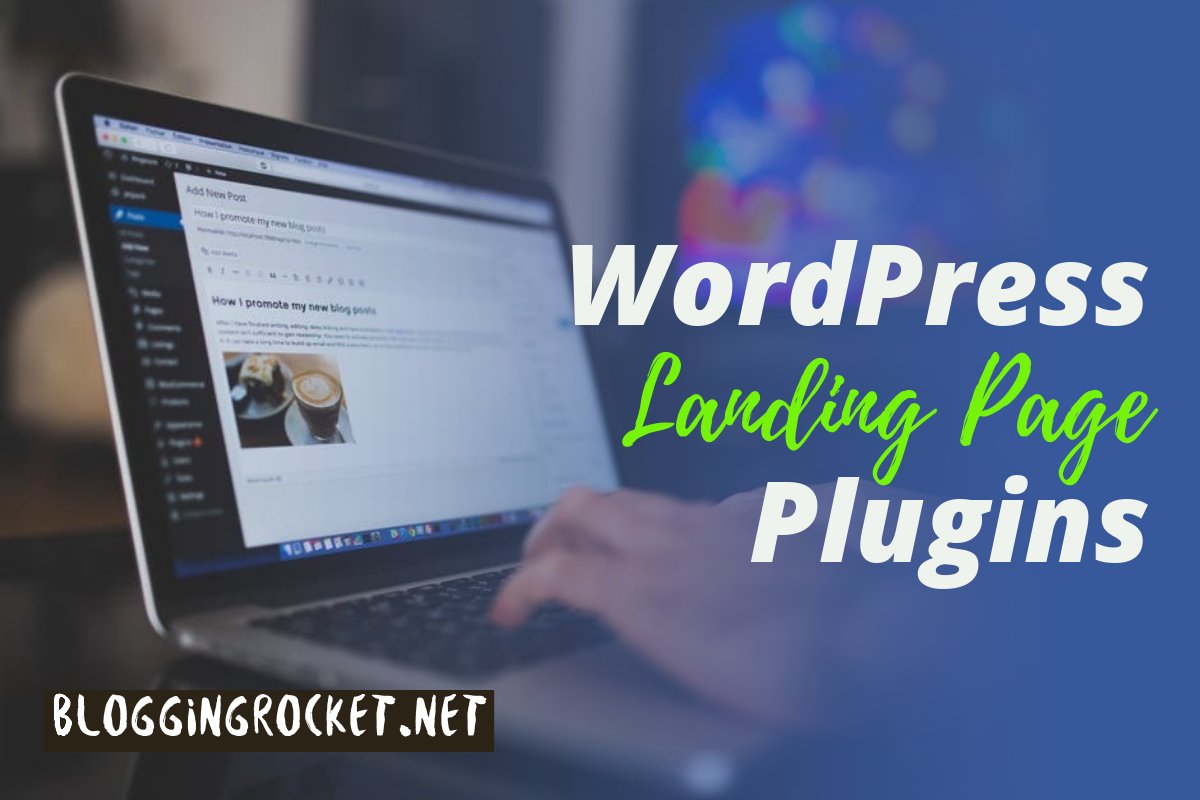 Thrive is a famous landing page plugin that comes with more than 122 ready-made templates. You can choose the best template for your site by searching through the different categories. Developers working behind Thrive are continuously working on new templates to offer more options to users. Thrive also provides a drag and drop interface to help you customize the landing page layouts as per your requirements. The templates are responsive to give a fresh and practical look to your landing page.
Features:
122 ready-made templates
Drag and drop interface
Responsive layout
Price:
Thrive costs $67 for lifetime updates with one year of support. You can also opt for monthly memberships for unlocking all the other plugins.
Elementor is another popular WordPress landing page builder available. It has a drag and drops visual edit interface to help build landing pages. It comes with a multitude of pre-designed landing pages plus a blank template such as Elementor Canvas template which offers a blank template to create a landing page from scratch. Elementor comes with both paid and free version.
Elementor pro includes design elements such as Opt-in forms and pricing lists/tables to help you with landing pages. Even though no A/B testing is available with Elementor plugin, yet there are some workarounds available. You can copy an Elementor page and use the Simple Page Tester plugin for running A/B tests.
Features:
Drag and drop visual editor
Multitude of pre designed landing pages
Opt in forms
Pricing lists/ tables
Price:
It starts at the $49/personal site, $99/Business site, and $199/unlimited sites.
OptimizePress is another WordPress landing page plugin available for users. It is an all in one tool. As far as landing pages are concerned, OptimizePress helps to build landing pages with visual LiveEditor. Its LiveEditor is basic compared to the other available tools in the list. But you have plenty of flexibility for page building:
OptimizePress features various built-in templates with a marketplace of 350+ additional templates.
Features:
Several built in templates
Marketplace of 35+ additional templates
Visual live editor for building pages
Price: 
Optimizepress starts at $97. Publisher package costs $197 and Pro package costs $197. 
Lead Pages is another exciting WordPress plugin. As the name suggests, it is a landing page creation platform which is not just restricted to a WordPress website. It comes with a drag and drop editor to host pages on its own servers. It also handles digital assets delivery with many more features. You can add a page directly to your WP site through this Lead Pages plugin. You can also download an HTML page to use with any platform.
Lead Pages also offer customization along with a drag and drop builder. It helps to build unlimited landing pages which you can use for unlimited websites or host them via Lead Pages. All the options are available on the dashboard. Unlike other SaaS landing page platforms, you will not be charged the traffic amount.
You can also use the Leadboxes feature for adding clickable content popovers. The only downside to leadpages is that it's a bit expensive in comparison to other plugins. When looking to go with something more affordable, go for Thrive Architect. However, with the functionality it provides, cost is justified.
When choosing Leadpages, consider a Pro account as it comes with a built-in split-testing feature. Running different tests will help you boost conversions to help get more subscribers/customers. You can also use Google Optimize, a free tool for running split tests.
Features:
Drag and drop editor
Downloadable HTML page for use with any platform
Unlimited landing pages
Leadboxes – clickable popovers
Built in testing feature with the Pro account 
Price:
Leadpages is available at $37/month (standard plan), $25/month when paid yearly.
Similar to Elementor, Beaver Builder is an all-purpose page builder available in free and paid versions. However, Beaver builder's free version offers only the basic functionality. You will need to use a pro version if you want to build professional landing pages.
It does not include a built-in page template which helps you to build from scratch.  It also does not include any A/B testing, but you can make some changes by cloning the Beaver builder design and use a Simple Page Tester or Google Optimize for running A/B tests.
Features:
Create landing pages with drag and drop functionality
Integrating helpful elements such as CATs, countdown timers and pricing tables etc.
To import 30 pre-built landing page templates.
Price:
Free version is available with limited features. Pro costs $97+ for unlimited sites usage.
Instabuilder, as the name suggests, comes with a drag and drop interface to help WordPress users for creating landing pages in a quick and effective way. It comes with more than 100 templates which you can customize as per your requirements. It is a great tool for non-tech savvy users.
Features:
100 templates for building landing pages
Easy to build pages
Drag and drop interface 
Price:
Site license starts at $77, Developer license at $197 and unlimited license at $97.
Parallax gravity plugin will let you build unlimited landing pages. It comes with a landing page builder that allows users to create multiple sections within a web page. It also supports the creation and background modification of different types in blogs and web pages. It also provides a shortcode which helps to integrate third-party plugins inside a landing page.
Features:
Unlimited landing pages
Integrates with third party plugins easily
Price:
It comes in both free and premium versions. Premium version costs $17.
WordPress landing pages is a plugin that helps users to build their own landing pages. This plugin also lets users run A/B split tests to measure landing page performance. It comes with a library of custom designs.
Features:
A library of custom designs
A/B testing
Price:
It is available for free from the WordPress repository.
Looking to launch a new web application? SeedProd helps you in the building coming soon pages to create brand awareness and collect emails before launching. You can use this plugin to notify visitors whenever a site is down for maintenance.
Coming Soon Pro is built to grab emails. It gels with leading email marketing platforms such as Constant Contact and MailChimp. It includes animations, social icons and access controls with the ability to showcase landing pages on selected pages.
Features:
Build coming soon pages
Integrates with email marketing platforms
Includes animations, social icons and access controls
Price:
Starts at $29.
WP Lead Plus helps in building stunning yet responsive squeeze pages. It comes with 15+ ready to use templates to help you create professional opt-in forms on your site. It also helps to create unblockable pop-ups too. The pro version features a pop up which shows when a user leaves a site. Using images, advanced conversion tracking, widgets and A/B split testing are all available with this plugin.
Features:
15+ ready to use templates
Unblockable pop-ups
A/B testing
Advanced conversion tracking
 Price:
$47 End-License to be used on multiple websites
Top Pick
Thrive Architect is one of the coolest plugins for building landing pages. That's because it is not only a landing page plugin. It comes with drag and drop custom page layouts. Different bloggers use this plugin for creating engaging content.
It is also designed to work harmoniously with Thrive Leads (renowned list building plugin for WordPress). It also costs only $67 for lifetime updates with a 12-month support. Many premium plugin providers charge for yearly updates but it offers a membership with the following options:
Pricing starts at $19/month (paid annually) and includes access to any new products they launch
Thrive Leads – opt-in forms
Thrive Headline Optimizer – headline split tests
Thrive Ultimatum – Calls to Action
Conversion-focused WP themes
If You are Simply Looking to Build Landing Pages…
When it comes to keeping things simple, Leadpages is a strong contender because of its clean user interface and overall straight-forward layout.
Leadpages keeps the user interface clean, with a straightforward layout. However, it is one of the most straightforward plugins to work with. Everything is easily manageable from a single platform. This makes editing landing pages and running split tests easy across different domains. The only downside is that managing a huge number of landing pages becomes difficult with it.
Leadpages also comes with a split testing on Pro and Advanced plans. That's because all things are available within a single interface to make split testing easy. You can also use a third-party tool such as Google Optimizer or a Visual Web Optimizer for running split tests.
For Building Custom Page Layouts and Landing pages…
Beaver Builder is mainly a page builder plugin. It comes with a multitude of elements to add to web pages which are not available in other plugins. Beaver Builder editor is straightforward and light in weight.
Thrive Architect was also built as a page builder plugin with a very fast and refined editor. Another benefit which Thrive Architect has over Beaver Builder is its ability to create out of the box landing pages. You also get a variety of landing page templates working for home-pages. It gives an option for building webinar pages, download pages, sales pages, squeeze pages and course pages etc.
Author Bio
Faiza Farooqi is an E-commerce Manager at Codup who accepts challenging strategies and puts amazing ideas on the table! She is an active community manager and also blogs at Codup Readers.