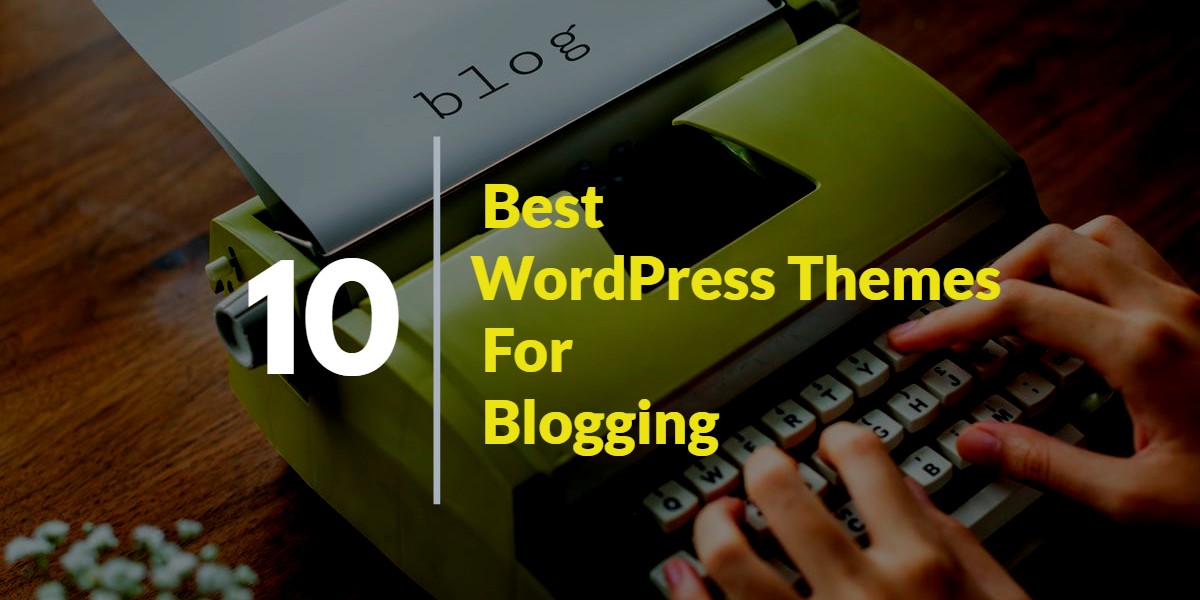 Picking the right theme for a WordPress site is not that much simple as it may seem to you. In fact, to make the right choice, you need to give proper consideration to your needs and ensure that you're making a reliable choice.
However, the wide options of themes available in the market may make it difficult for you to narrow your choices.
If you're entirely a newbie, who makes a search on a search engine for "WordPress Themes", then you will be amazed to know there are more than 910,000,000 results on Google. This will, later on, put you up in the mystery itself.
However, in this post, I cannot highlight all the available themes for you, though I can present you with some of the best and extensive themes available on the web which you can consider using in your website. Let's get started!
10 Best Free WordPress Themes
These below-mentioned WordPress themes options are a great place to begin if you're not sure where to start your theme research. So, you can consider making use of them to work the best.
Let's jump right in!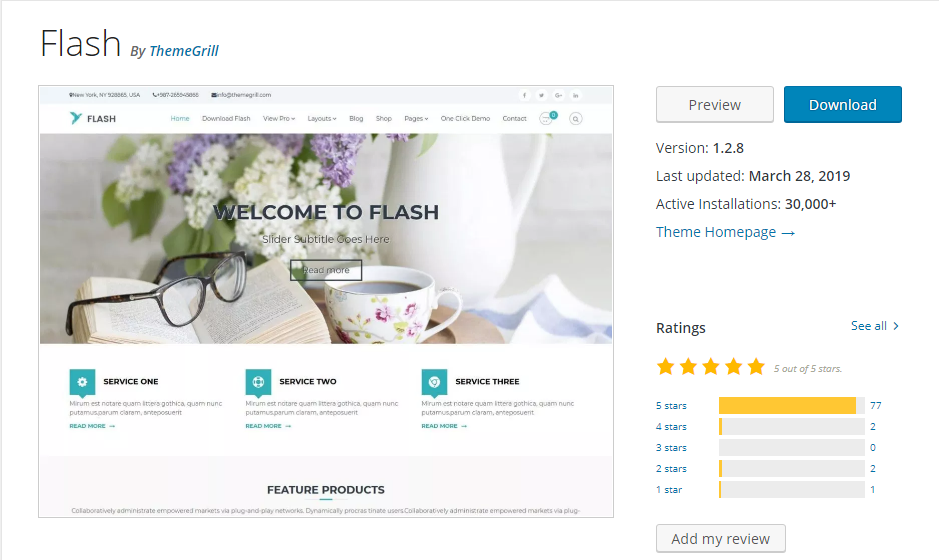 If you're a person who's looking out for a theme, which could offer features like a built-in portfolio, drag and drop page builder, and custom widgets, then Flash could work perfectly for you. One of the best parts about this theme is that it comes with NO prices tag, yes, it's completely free.
By using this theme, you can easily get numerous pre-built demos which you can be, later on, installed on your website with the help of ThemeGrill Demo Importer.
Also, along with that, you'll get access to different tools that will help you to build a site as per your own needs.
So, it doesn't matters, if you want to create a business website, portfolio or blog, Flash theme can be the best and right solution for you and your needs. 
Key Takeaways:
Various features and design options
Free documentation
Variety of easy-to-use widgets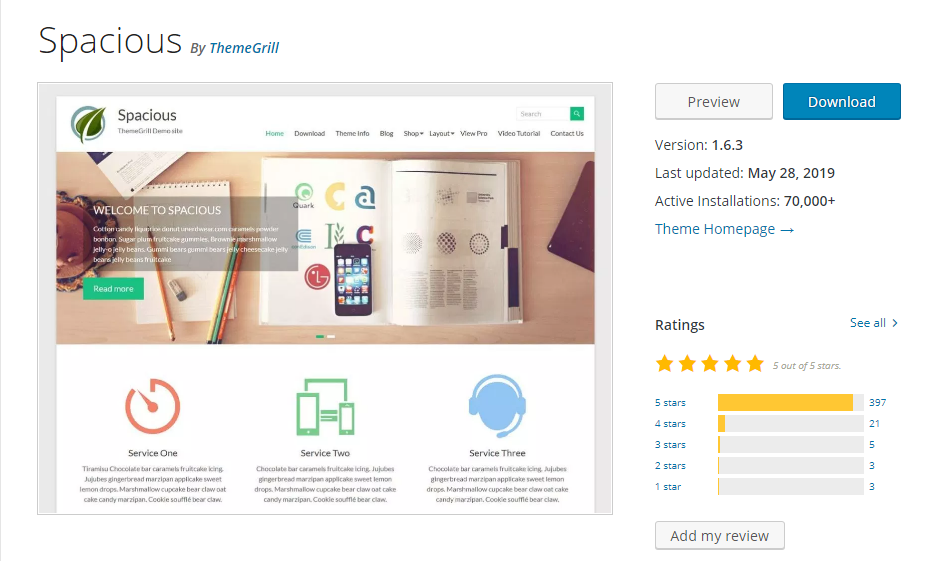 This is an amazingly spacious multipurpose responsive theme designed & coded with a lot of consideration and passion.
All of us know that a compact and minimalist layout can help a person to have an impressive website, and this is where Spacious theme can help you.
However, minimalism is not the only feature that makes it distinct from others as there are many more, which will make you choose this theme.
If you're the one who desires to get a professional-looking WordPress website for your business, agency, freelancers, or for anymore, then you can consider going with premium access.
With this, you will get the ability to personalize the front page slider, incorporate social links, and add logos to the website. At last, I would say that you will surely get impressed with each and every characteristic of Spacious.
Key Takeaways:
13 custom widget areas
Great versatility
Pre-built page layouts, and templates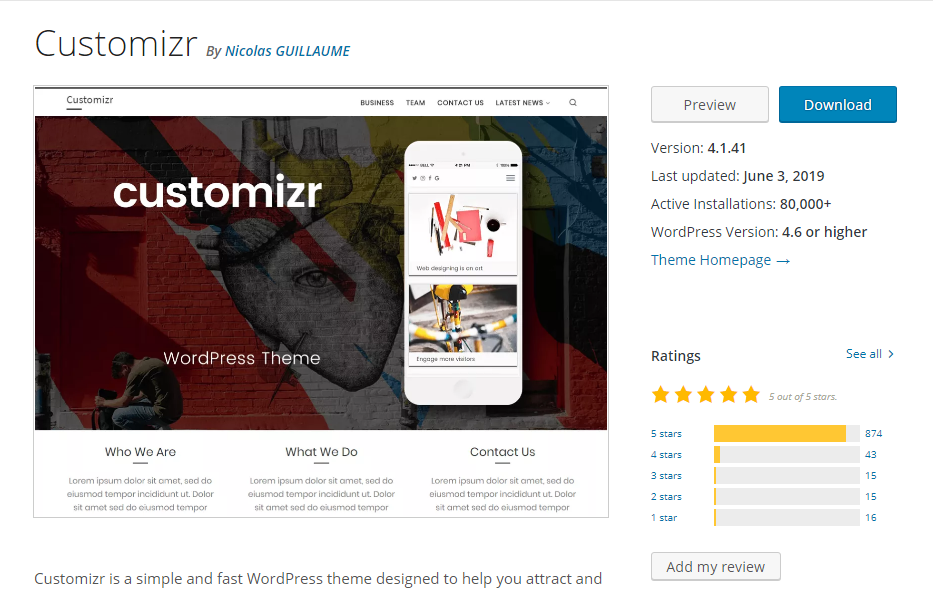 As the title implies, Customizr is a simple-to-customize theme for WordPress websites that are used on a very large scale by novices and experts. With it, you can build impressive and mobile-friendly sites for your business, blog, or e-commerce store.
By availing this theme, you can also add some premium characteristics to your websites, such as adding descriptive text and icons in the content and many more.
Additionally, with the premium version of Customizr, you can also get an ability to integrate your website with plugins like bbPress and WooCommerce.
Key Takeaways:
Makes documentation easy
Easy to learn and use theme
Ideal for businesses, blogs, and e-commerce stores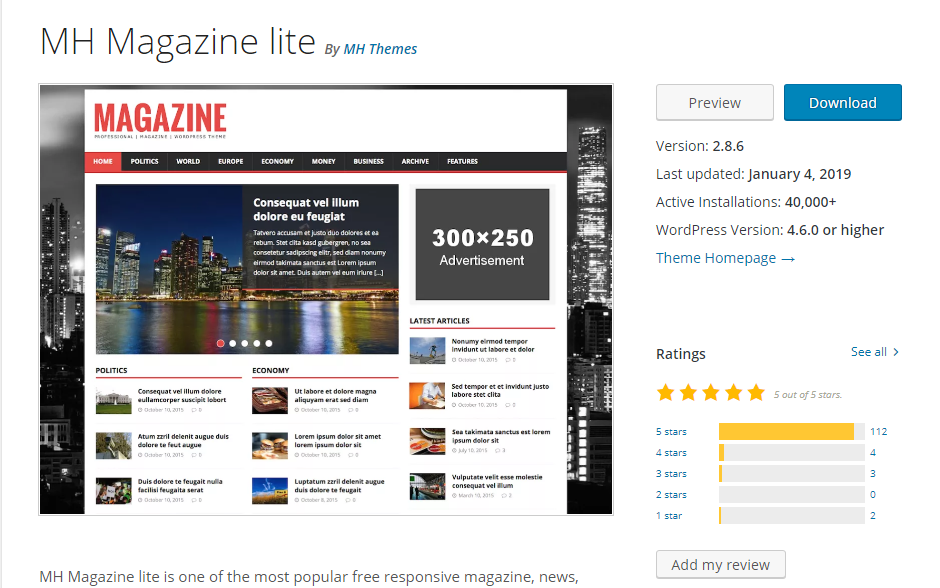 MH H Magazine Lite theme is a must-to-go theme for magazines-styled-websites. You will get access to numerous characteristics like front-page slider, advertisement placements, handy category tabs and much more, which is certainly going to take your site to a great level.
This MH H Magazine theme enables you to make a versatile and effective website in which you can include 13 widget areas and drag-and-drop design modules.
With the help of this specific theme, a user can build almost any sort of layout that he or she wants.
In a case, if you want, you can easily get the premium access by paying a fee for MH Magazine, by this, you will get access to some extra features which would provide you with the ease to add further functionality to your website.
Key Takeaways:
Easy-to-use Theme Options
User-friendly
Responsive design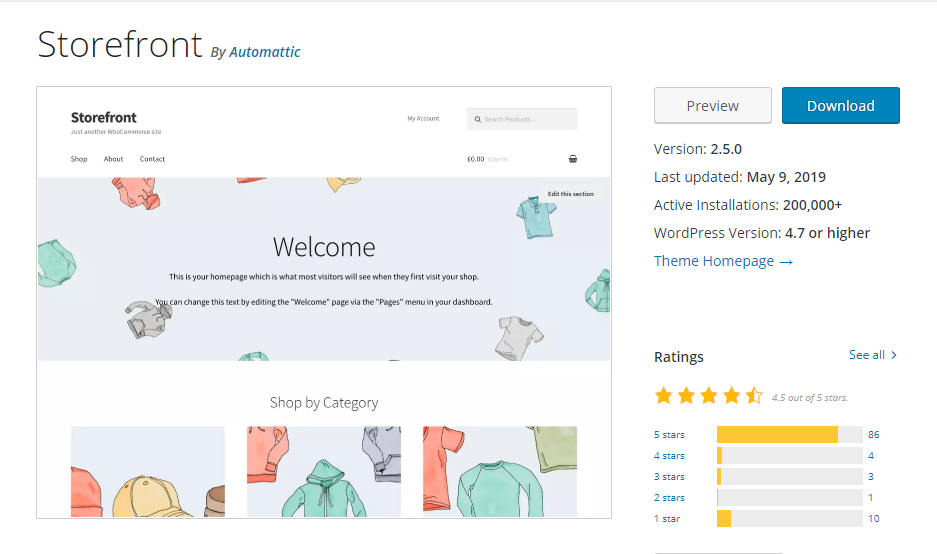 Whenever there comes thought to jump on the bandwagon and get your very own e-commerce store, Storefront can help you in many ways. With the help of Storefronttheme, you can effortlessly get the e-commerce platform on your website and start trading right away.
The reason behind this is that the Storefront theme comes from the developers of WooCommerce, which makes it simpler for you to integrate your store.
There are many more perks which you could avail by using this theme alike working out on a dynamic pricing table, adding recommendations or bookings to the product listings and many more.
Key Takeaways:
Can add a remarkable parallax background
Create customized product galleries
Integrity with WooCommerce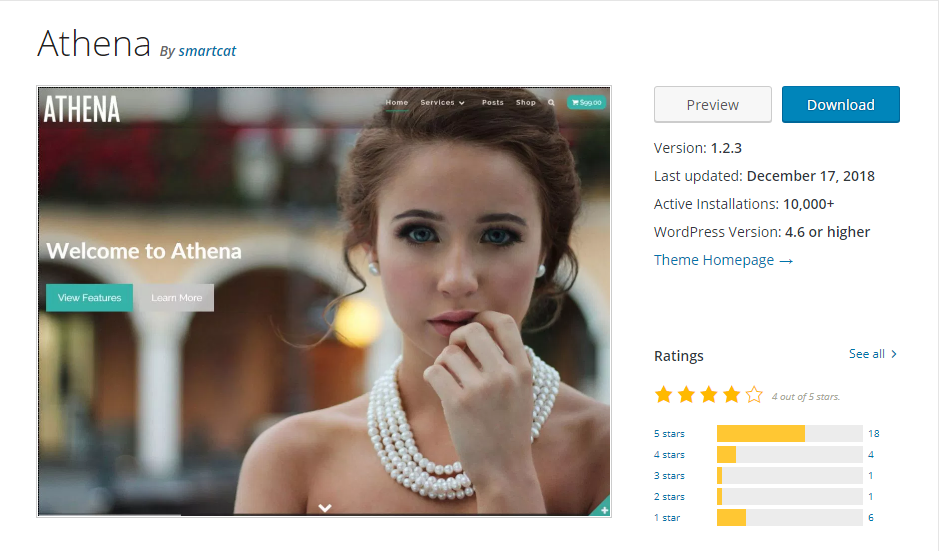 If you actually want to bring your site to life, consider using the Athena theme. It is one of the best themes which is filled with loads of features that are of great use for companies, bloggers and creatives.
Athena theme includes an emphasized image slider with animated callouts. In fact, along with a helpful grid-style blog layout, you'll get numerous additional customization options at your disposal.
However, the most valuable characteristic Athena gives is the live customizer. With the help of this, you can save a significant amount of time while editing.
Key Takeaways:
Enables you to see changes in real time
Allow you to add widget areas, menus, color choices, and social media links
Customization options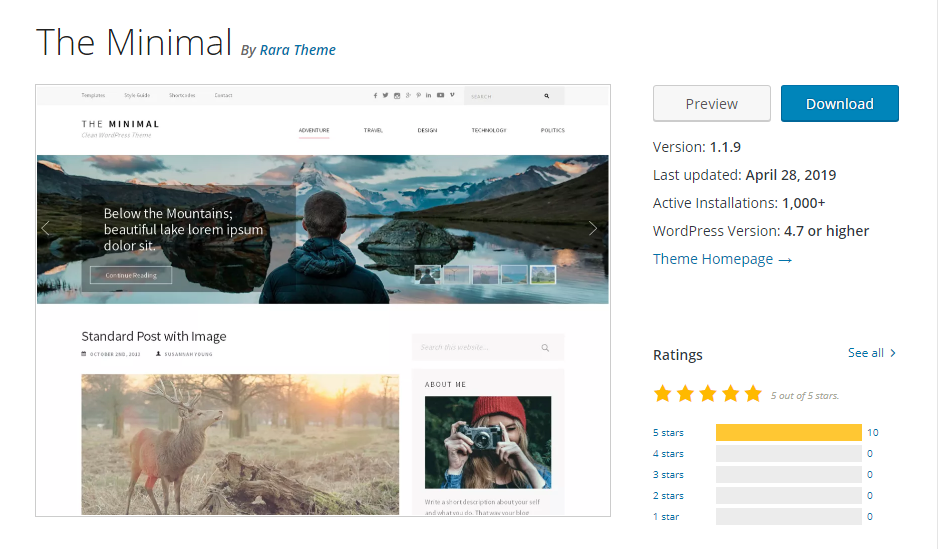 As the name implies, this theme is one of the most simple and clean themes. Because of its clutter-free design, mostly this is used by authors, journalists, and bloggers.
The major perk of utilizing this theme is that you'll be able to bring the content of the site in the spotlight, which is actually one of the greatest functions.
In fact, with this theme, you get the ability to organize your WordPress site according to your own preferences and this, later on, make your content visible in the best way possible to your readers.
However, all of this is possible because of The Minimal theme's blog-friendly widgets.
Key Takeaways:
Search engine friendly structure
Simple and clean
Clutter-free design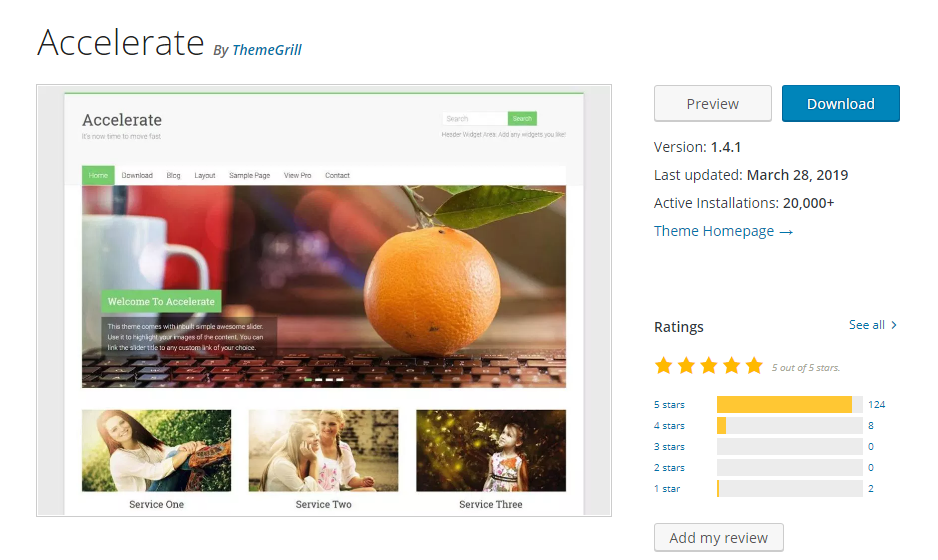 Accelerate is a suitable match to its name as it allows you to speed up the site design process. This multipurpose theme can be utilized to build virtually any website, including company sites, e-commerce stores, blogs, and documents.
In fact, this theme also lets you showcase visuals on your site as featured pictures, and the use of white space is delightful and holds the focus on the content.
Furthermore, the Accelerate theme offers lots of support choices and simple design tools through which many beginner and experienced developers can benefit because of this theme's flexibility and ease of use.
Key Takeaways:
Speed up the site design process
Can build any website
Created for a variety of blog types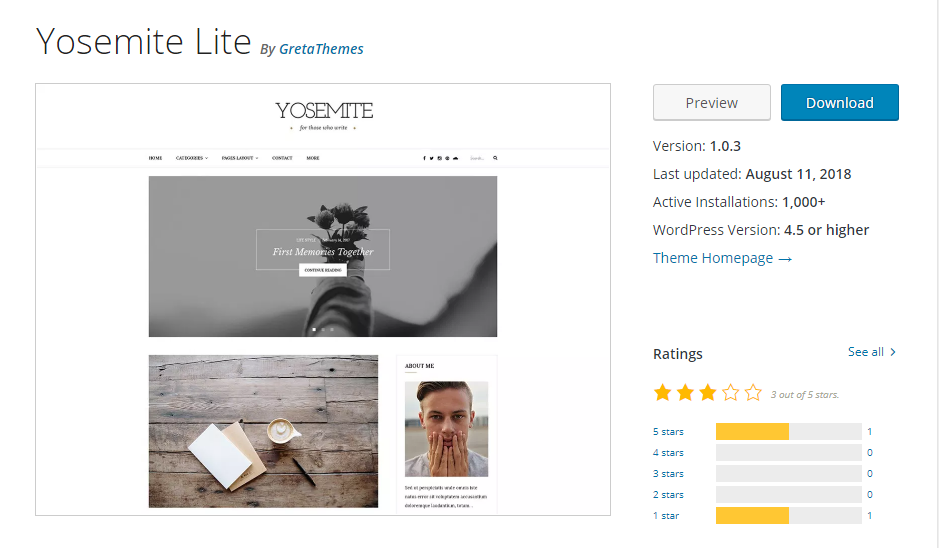 Yosemite Lite is a clear and minimalist WordPress theme for individual blogs. This theme has a perfect design, great typography and is an excellent option for travel, personal, fashion, or lifestyle blogs.
With the help of Yosemite Lite theme, you can easily set the focus on your content, in which you can showcase the text with photos in a beautiful way.
In addition, the theme is completely responsive and works perfectly on every sort of device. It also has great documentation which will, later on, help you to customize the theme in the most effective way.
Key Takeaways:
Minimalist WordPress Theme
Great documentation
Perfect design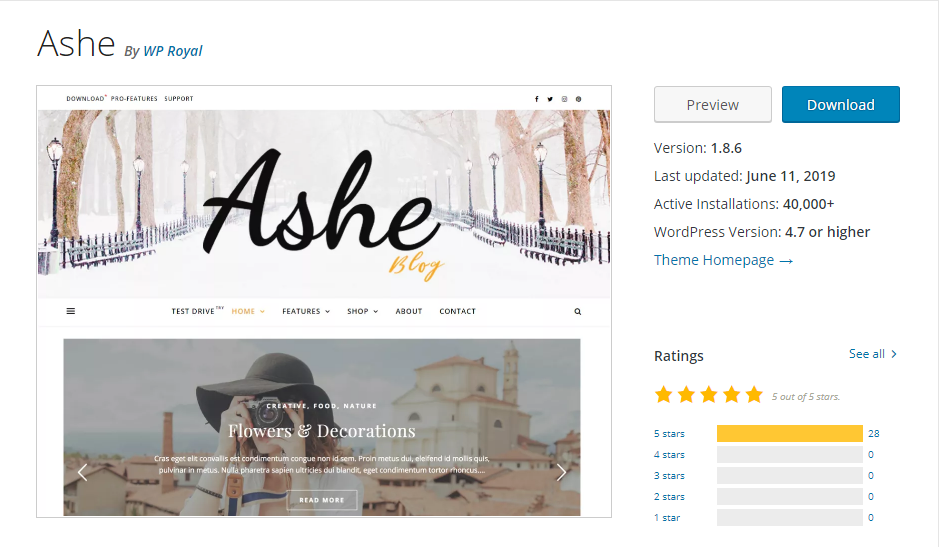 Ashe is one another WordPress theme that deserves a spot in this section. This theme is especially useful for content-focused websites, such as food, travel, fashion, or photography blogs.
The best thing about this theme is that it features a reliable, responsive, and smart design. As a matter of fact, it presents your content in a unique and eye-catching way.
Key Takeaways:
Helpful for content-focused sites
Simple to use
Features a responsive design 
Back To You
A WordPress theme will let you build a unique, practical, stylish, and eye-catching site where you can share your content in the most reliable manner.
Note that each and every theme mentioned above has its own characteristics, designs, and styling that set them aloof from other themes — so; consider your needs prior to making any decision.
If you have some other points going in your mind, then feel free to share them in the comment section.
Author Bio:  Liza Kosh is known for her tremendous contribution as a senior writer who loves to share her views on topics covering upcoming technology and the market trends. She is currently associated with a WordPress web development company based in the USA as a content strategist.