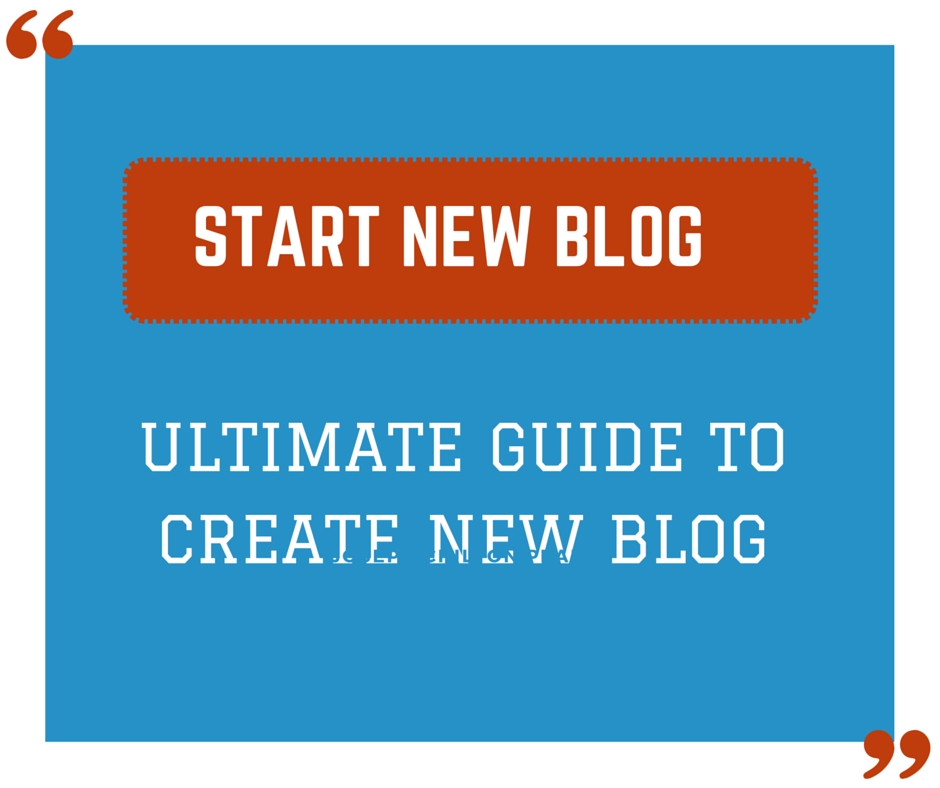 Would you want start your own blog ?
would you want to create make money blog ?
If your answer is yes then go ahead and read my amazing post on Start new blog in 2017.
There has been a sudden increase in the number of blogs during last couple of years. Those people who had no idea about blogging and internet have acquired the knowledge and many of them are now working as successful bloggers in the world. If you are one of those people who have no idea about how to start a blog then you will find step by step guide in this post. One thing that I must mention in the beginning is that, starting a blog is not that big a deal. Anyone with access to internet can start his/ her own blog. The biggest challenge is to run your blog successfully. If you will take right initial steps, you will ensure the success of your blogging career.
Must Read:
Free Dofollow Backlinks : How I created 40+ free dofollow links?
Choose Right Niche  Topics
Take a look on this example.
Suppose you are an student of computer science. On monday you join Civil engineering class while on next day you attend Electrical. Its sounding weird. Same thing will happen in blogging if you don't pickup niche.
Before you start thinking about other things, it is important to determine what kind of topics you will be covering in your blog. If you have interests in gadgets then you can start a gadget reviewing blog but if you have interest in social issues then you should start a blog on that particular niche. Choosing the right niche for your blog is really important and if you will fail to choose the right niche, you will fail to run your blog successfully.
How to start a viral niche website?
Selecting a Domain Name
The next thing that you have to do is to select and buy a domain name. Make sure that the domain name is relevant to your topic and it is also easy to memorize. Don't make the domain name very long because people don't like such domain names. I have written a complete post on domain name selection for new blog.
Buying hosting services
After purchasing a domain name for your blog, it is time to buy a hosting service because without a server, you cannot publish your blog on the internet. Find a company that offers economical yet reliable hosting service because you cannot afford an expensive hosting service in the beginning. I next post i will share best hosting services for new blog.
Wanna want to quick money? Read Event Blogging Guide.
Install CMS
To run your blog, you need to have a CMS (Content Management System). I would suggest you to install WordPress on your domain. WordPress is the easiest to use and convenient CMS. You can easily create new blog posts, create new pages and add new media to your blog with WordPress CMS.
Install Theme and Plugins
Once you are done with installing WordPress on your domain, it is time to give a new and fresh look to your blog. First of all, install a theme to your blog that suits best to your topic and then install some important plugins that will help you manage the blog easily.Most recommended wordpress plugin are here.
Establish Social Media Profiles
Without social media presence, you cannot think to become a successful blogger. You should establish social media profiles for your blog. You should have presence on Facebook, Twitter, Google+, LinkedIn and Pinterest etc.
Start Creating Unique Blog Posts
Once you are done with all above steps, it is time to start writing and publishing fresh & unique blog posts. Keep an eye on your niche to come up with latest ideas for blog posts and information to share with your readers. Make sure to publish at least one blog post each day.
Search Engine Optimization
Search engine optimization is really important for online success of a website/ blog. You should optimize your blog for relevant keywords, write content based on those keywords and most importantly create backlinks.
Be Consistent
To put the final nail in the coffin, you should become consistent. If you are publishing one blog post each day then make sure to never skip even a single day. Consistency is the main key towards blogging success. Many first time bloggers fail to become successful become they cannot remain consistent in their efforts. Keep in mind that it takes to establish your blog as a brand name and once you do that, successful will kiss your feet.
Final Words: If you want to start your own blog then this guide will help you. Put your thought in comment box.