To become successful in any field,  you have to learn some basic things. While you should be trying to do everything in the right way, it is also very important not to make such mistakes that could cost you the business. In blogging world, either you can become very famous and successful or you can become the biggest failure.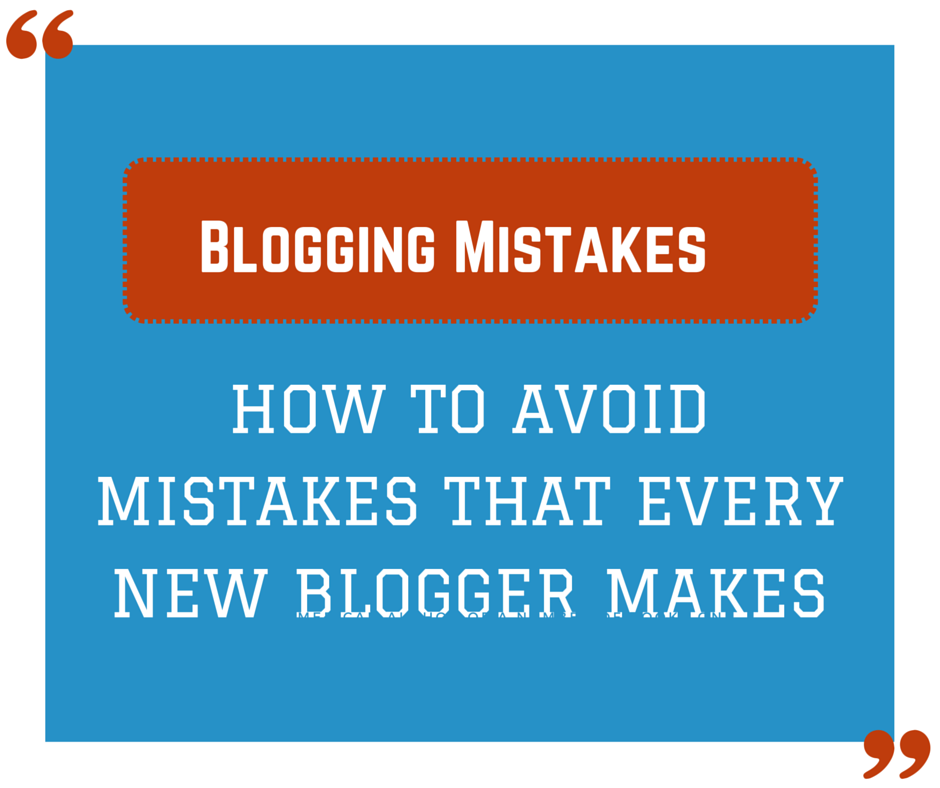 Don't be surprised when I tell you that 98% of blogs end up as failed blogs throughout the world. If you are going to start your own blog and you want to make sure that you don't end up as a loser then you should know what kind of mistakes are fatal in this industry. Sometimes we don't pay attention to very simple and easy things in life but we only understand their worth once the time is gone. So, you have all the time in the world to think about what you are going to do with your blog and also keep in mind the mistakes that you must avoid.
1 – Not having a clear goal
You should always have a clear goal about your blog. You should know what you are going to do with your blog and what results you want to achieve. Many people start blogging only because they want to make some extra money. Let me tell you one thing; you can definitely make a lot of money through blogging but not everyone in the world ends up making millions through their blog. If you don't have a clear goal in your mind, you will never be able to run a blog successfully.
2 – Poor formatting of posts
It may not take you a lot of time to write a blog post but it must take you more time while publishing that blog post. If you have a cool idea in your mind then feel free to write about it but once you are done with writing, take a look at your post and determine what kind of formatting will work best. For instance, you should know where to add a picture in your blog post. If you are going to share some important information in your blog post, time it properly or it will lose its meaning and carry no weight at all.
3 – Non consistent posting
You have to consistent with your blog. Many people don't remain consistent after publishing their blog and that turns out to be the main reason for their failure. It is wise to learn some lessons from mistakes of other people. Thousands of blogs are launched all over the world everyday but not all of them end up as successful ventures. One thing that you will find common among successful bloggers is that they post stuff on their blogs consistently.
Must Read : Submit blog to google search engine
4 – Poor grammar and sentence structure
You can use as much fancy vocabulary in your blog posts as you want but it doesn't mean that you should sacrifice on grammar and sentence structure. If you have poor sentence structure and grammar in your blog post, not only you will lose interest of your readers but search engines will not rank your blog in top ranking as well.
5 – No Call to Action
At the end of each blog post, you should have a call to action. Keep in mind that you are selling your ideas to your readers through your blog post. The only way to get them do what you want, is by adding a clear and attractive call to action at the end of your blog post.
How to avoid blogging mistakes by proper planning
In any form of business, planning is the most important thing to do. You never jump into a well without analyzing its depth. Starting a blog with no plan is of no use. Not only you will waste your precious time in such effort but you will lose a lot of money as well. The best thing that you can do is to take out some time and start planning about your blogging success. Keep in mind that each and every part of your blogging career should be properly planned as it is the only way to achieve success in this industry.
See Also: 15 Things You Need To Be Prepared For When Starting A Blog
1. Plan your posts
It is really important to plan your posts. While writing about anything that comes to your mind is a good idea but the most important thing is to plan when a post should be published. You should analyze the traffic on your blog and engagement of your readers to determine the best time to publish a post. Also, make sequel posts. If you have written something about a topic, be ready to write about it in more details after some time. This will help your readers realize that you are the expert in your niche.
2. Plan to Create Products
Blogging is not only about writing blog posts and showing advertisements on your blog. Blogging is a lifestyle and you can only be successful in blogging if you embrace the reality and let go of false perceptions. You should not only plan to create blog posts that are interactive for your readers but your goal should also be to create products. If your readers are loyal to your blog and they give importance to your advice then they will also love to buy products from you. You can start selling relevant products on your blog to increase your income. This is a great way to monetize your blog as well.
3. Plan Your Time
All the successful people in the world have a timetable. You should have a disciplined life because this is the only way you can get most out of it. Your timing to write a blog post and publish it on your blog should be static. It means that if you write a blog post in the morning then you should always write it in the morning and if you publish it in the evening, nothing in the world should stop you from publishing that post on time. Following a stretchy timeline can be a difficult task in the beginning but you will get used to it after a few weeks. At that time, it will become a lot easier for you to run your blog successfully.
4. Plan How to Market Strategically
As I said before, blogging is not all about writing blog posts and publishing them but it is about running a business/ organization. To bring more visitors and readers towards your blog, you need to market it as well. There are different ways to market your blog like you can advertise about it on the internet, you can create backlinks and write guest posts to bring more exposure for your blog. If you have no idea about blog marketing then I would suggest you to read e-books on blog marketing and learn some cool techniques. Without proper and continuous market, you will never be able to bring more business towards your blog.
Final Words:Planning is crucial for successful blogging and if you will follow the above described planning tips, you will definitely see positive changes in your blogging career. Feel free to ask, if you have any question in your mind.